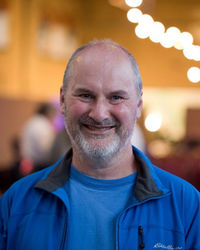 Dr Simon Duffy is a philosopher and social innovator who works to create a world where everyone matters. Simon is President of Citizen Network Coop and also Director of Citizen Network Research (formerly the Centre for Welfare Reform). His work focuses on the ideal of citizenship and how each of us can be fully equal and unique. Simon is a regular public speaker, writer and policy advisor.
Simon has been involved in creating several organisations and networks. In 1996 Simon founded Inclusion Glasgow to provide radically individualised support to people with complex disabilities. He led thinking on self-directed support and personal budgets and he found In Control in 2003 and now advises the global SDS Network. In 2009 he established the Centre for Welfare Reform, as an independent think tank in Sheffield, and he has been active campaigner for human rights and against austerity. He is a co-founder of the UBI Lab Network, which now has over 40 UBI Labs around the world, working to build the case for basic income. Simon is a co-founder of the Neighbourhood Democracy Movement that is exploring how local neighbourhoods can take on greater responsibility for their own development.
Simon has a doctorate in moral philosophy and writes on the welfare state, citizenship, social justice and inclusion. Key publications include Unlocking the Imagination (1996), Keys to Citizenship (2003) Women at the Centre (2011) A Fair Income (2011) Peer Power (2012) and The Unmaking of Man (2013). Simon's awards include the RSA's Prince Albert Medal and the Social Policy Association Award for outstanding contribution to social policy.