Peer-Led Crisis Support in Mental Health Services
Author: Simon Duffy
From the Summary:
PFG Doncaster has emerged as one of the most powerful and inspirational versions of peer support in the world. Starting as an advocacy group for people with mental health problems it has become a powerful source of mutual support and social change, working in partnership with statutory services, but also retaining its own unique role and values.

At the very end of 2019 it began to offer a ground-breaking service - Safe Space - a truly peer-led crisis response service for people experiencing a mental health breakdown. During 2020 and into 2021, despite the impact of the COVID-19 pandemic, it has continued to provide this vital, life-saving, support to the citizens of Doncaster. PFG Doncaster not only set this service up more quickly than any other organisation, it also maintained the service, despite the constraints and limitations created by the pandemic. At the same time PFG adapted and changed its own overall way of working to ensure all its peer members stayed safe and strong.

Today PFG is looking forward to working with local leaders to build on this success, to continue the reforms of mental health services, with an even greater commitment to genuinely community-based support. There are challenges ahead - funding remains uncertain and there are competing conceptions of peer support - but PFG has shown that it can respond to new challenges and continually raise our expectations of what we can all do - when people help people.
Read and download the free pdf in your browser, link below.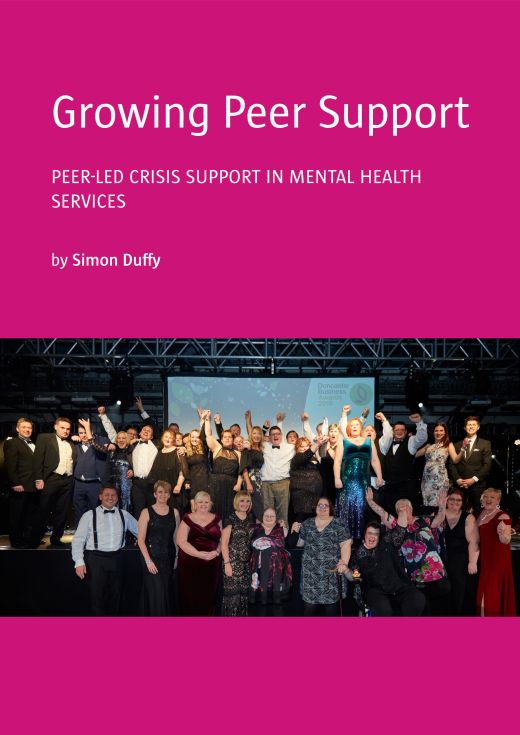 ---
The publisher is the Centre for Welfare Reform.
Growing Peer Support © Simon Duffy 2021.
All Rights Reserved. No part of this paper may be reproduced in any form without permission from the publisher except for the quotation of brief passages in reviews.