Author: Chris Watson
Simon Duffy writes in the Summary to the paper:
I developed the concept of an Individual Service Fund (ISF) in 1996 when I was setting up Inclusion Glasgow. We discovered it was a powerful tool to help people build a life of citizenship. Later, while running In Control, I proposed the use of ISFs as a way to help people manage their personal budgets without taking on all the responsibilities of direct payments, and this idea was then adopted by both the Care Act in England and the Self-Directed Support Act in Scotland (where it was called Option 2).

However this idea has been slow to catch on in practice. While writing the best practice guidance for the Care Act I discovered that very few local authorities offered people ISFs and, even if they did, they had completely misunderstood their purpose. Too often they were adding complexity instead of reducing it. This was all quite disappointing and I feared that a potentially powerful innovation had simply been abandoned.

But I was lucky enough to discover that Chris Watson, the author of this guide, had been working away in Dorset to implement ISFs with both rigour and integrity. He had managed to work with his colleagues to avoid the traps and pits into which so many others had fallen. He realised that ISFs were a gift for people and families - but also a gift for enlightened commissioners.

Working with the Centre for Welfare Reform and Citizen Network, Chris has managed to increase the uptake of ISFs across England. This guide is an introduction for commissioners which will help them create systems that will transform people's experience of health and social care. Putting people in control of their lives and helping people shape their own support is a basic human rights requirement. ISFs make this a realistic possibility for everyone.
Read and download the free pdf in your browser, link below.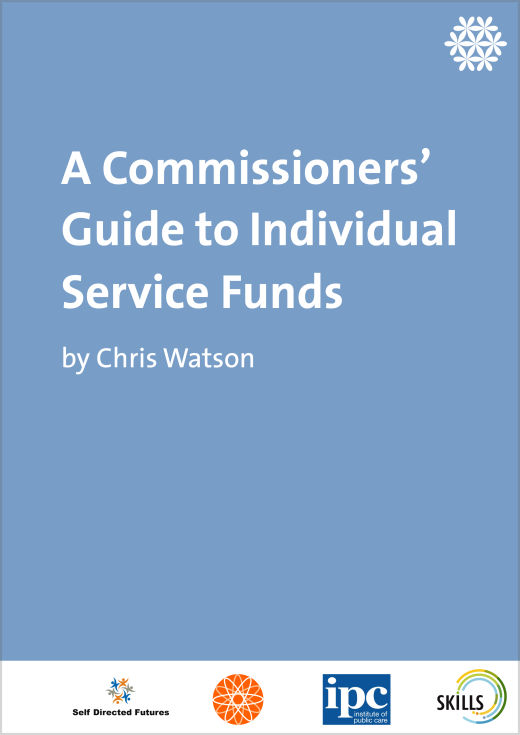 ---
The publisher is the Centre for Welfare Reform.
A Commissioners' Guide to Individual Service Funds © Chris Watson 2020.
All Rights Reserved. No part of this paper may be reproduced in any form without permission from the publisher except for the quotation of brief passages in reviews.