Authors: Dr Simon Duffy and Dr Claudia Gillberg
Summary
This short paper is a submission, from the Centre for Welfare Reform to Professor Philip Alston, UN Special Rapporteur on Extreme Poverty and Human Rights. Our submission offers an overview of the UK Government's Austerity policy. The Austerity policy was established in 2010 by David Cameron's Coalition Government. The policy is regressive, cumulative and continuous; its five main components are:
Cuts to public services
Cuts to the income of the poor and disadvantaged
Benefits to advantaged groups
Rhetoric to blame poverty on the disadvantaged groups
Increased conditionality and social control
It is important to note that Austerity is not about austerity. It is an ideological policy, presented as if it were driven by economic necessity and for the greater good, however:
The policy has been broadly deflationary and has weakened the UK's economic performance - the UK's wage growth, recovery and debt levels have been woeful.
If the purpose of the policy had been to reduce public and private debt then it would have targeted tax increases on the wealthiest 15% - the only group to have genuinely seen their incomes increase over the past 40 years.
For this reason we will not refer to Austerity - but instead to Austerity - the erasure representing the fact that Austerity is a lie. 
It is also important to note that the policies introduced in 2010 were not a reversal of previous policies. Austerity is the accelerated development of policies that began in the 1980s and have increased poverty and injustice in the UK for 40 years. It is impossible in 2,500 words to document all the harmful policies of Austerity and we expect other groups to provide different perspectives; so our focus will be limited to:
The harm caused by Austerity 
How Austerity functions
Why Austerity has continued
Read and download the free pdf in your browser, link below.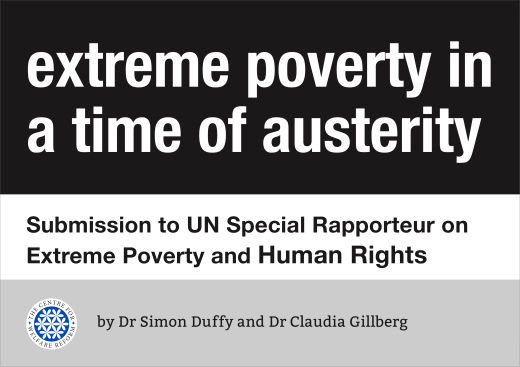 ---
The publisher is the Centre for Welfare Reform.
Extreme Poverty in a Time of Austerity © Dr Simon Duffy and Dr Claudia Gillberg 2018.
All Rights Reserved. No part of this paper may be reproduced in any form without permission from the publisher except for the quotation of brief passages in reviews.