Author: Neil Carpenter
Austerity's Victims is based on my work as a volunteer advocate for Cornwall Advocacy. Its aim is to show how adults with a learning disability have been affected by UK government austerity measures since 2010 and to bring their situation into the open. 
The book concentrates on five men in Cornwall with a learning disability, precisely comparing their income and spending with national and county averages so that the extent to which they have been left behind becomes clear. It also examines their quality of life as the support they are given shrinks.
In those five case studies, the men's spending is compared with the Minimum Income Standard of the Joseph Rowntree Foundation as well as UK and Cornwall medians. Their spending averages 48% of the UK median, 55% of the Cornwall median and 71% of the Minimum Income Standard. It goes without saying that their income is below the relative poverty threshold.
From the case studies, other common features emerge as well as relative poverty:
All have had their support hours at home or their day centre attendance cut. Three of the men who have support hours have seen them cut by an average of 27%. The other two attend day centres: one now has his place only half-funded; the other has had Adult Social Care funding removed completely.
When the book was published, two of the five men had had their benefits cut. One failed to have his DLA transferred to PIP. The other, a man called Danny who suffered a life-changing brain injury in 1980, was suddenly deemed 36 years later to miraculously have changed and therefore be fit for work without his Employment and Support Allowance. Since publication, one more man has fallen foul of the system.
To state the obvious, their quality of life has suffered. Most of them lack the friends that we all take for granted and so loneliness is a real problem.
For all the men in the book, their lives fall a long way short of the 'wellbeing' the 2014 Care Act says they should be experiencing. One component of 'wellbeing' is 'personal dignity'. 
If you read the chapter on Danny and his Work Capability Assessment, his tears at the initial outcome showed how little 'respect' (another word from the Care Act) was shown to him. 'Personal dignity' doesn't even come into it.
Austerity's Victims is available to buy on Amazon in print and for your kindle here.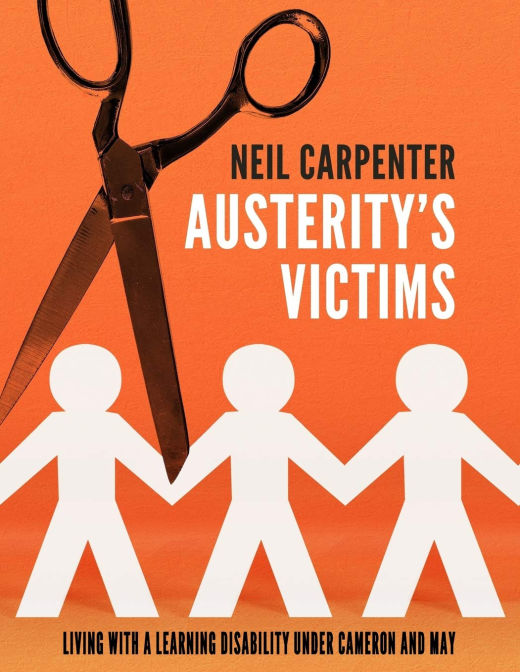 ---
The book Austerity's Victims is published through the CreateSpace Independent Publishing Platform.
The publisher of this article is the Centre for Welfare Reform.
Austerity's Victims © Neil Carpenter 2018.
All Rights Reserved. No part of this paper may be reproduced in any form without permission from the publisher except for the quotation of brief passages in reviews.