But the UK system is rigged
Author: Paul Hunt
Foreword: Paul Mason
The UK has accepted legally binding international obligations to promote and protect social rights, such as the rights to affordable housing, an adequate standard of living, an equitable health system, education, food, and social security based on respect.
These social rights are especially vital to disadvantaged individuals and communities, but they are largely invisible in the UK. 
The cost of ignoring social rights is very clear:
Falling living standards
Shrinking public services
Young people held back by the cost of housing
More children in poverty
Social care in crisis – cuts over 40% and increased mortality rates
Increased suicides and deaths associated with the Government's welfare reforms
Growing stigma and hate crimes towards disabled people and other minority groups
Disasters like the Grenfell Tower fire
The rich getting richer
Severe criticisms of the UK's human rights record by the United Nations.
It is for these kinds of reasons that Professor Hunt calls on the Labour Party, and other progressives, to name social rights, talk about them and take them seriously.
In this way, social rights can reinforce progressive social policies, resist austerity, contribute to social justice and help to prepare for transformative change in British politics.
Read and download the free pdf summary of the report in your browser here.
Read and download the free pdf of the full report in your browser here.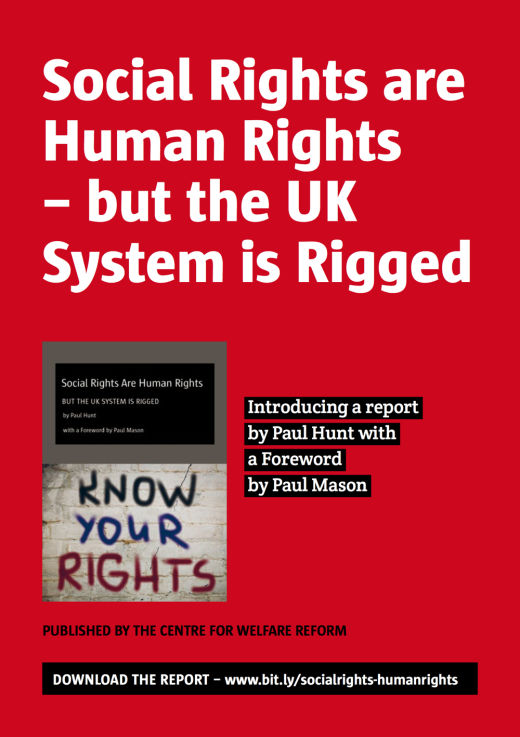 ---
The publisher is the Centre for Welfare Reform.
Social Rights Are Human Rights © Paul Hunt 2017.
All Rights Reserved. No part of this paper may be reproduced in any form without permission from the publisher except for the quotation of brief passages in reviews.