Towards an Advocacy Movement for Energy Limiting Chronic Illness
Authors: Catherine Hale, Stef Benstead, Jenny Lyus, Evan Odell and Anna Ruddock
From the introduction:
This first phase of the Chronic Illness Inclusion Project (CIIP) ran from April 2017 to December 2019. To our knowledge, it was the first piece of research in the UK by, and for, disabled people to comprehensively address the experience of chronic illness as a distinct form of impairment within the framework of the Disabled People's Movement (DPM).
The purpose of our research has been to produce a manifesto for equality and inclusion and to lay the foundations for a sustainable self-advocacy movement for the chronic illness community. Our activities have included community engagement and stakeholder engagement as well as research (see Appendix 1 for more detail on project activities and our manifesto).
To this end, we explored chronic illness through a social model of disability. We invited our participants to distinguish between how their body or health condition disables them, and how external factors like environmental barriers and social attitudes disable them. This helped us to identify the social and political changes we want to see.
A key achievement of the CIIP has been to develop a methodology for making focus group participation accessible to people with severely debilitating chronic illness who struggle to, or cannot, leave their homes. Our online focus group was complemented by a large-scale survey, enabling us to capture both the breadth and depth of knowledge and experience in the chronic illness community. We heard from over 2,000 people in total. This report details the extensive findings of our research.
Read and download the free pdf in your browser, link below.
The report is also available (in word) for screen readers, link below.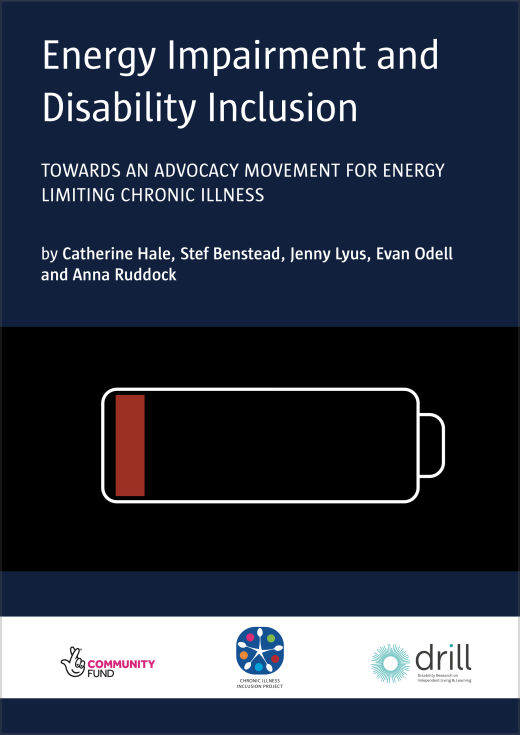 ---
The publisher is the Centre for Welfare Reform.
Energy Impairment and Disability Inclusion © Catherine Hale, Stef Benstead, Jenny Lyus, Evan Odell and Anna Ruddock 2020.
All Rights Reserved. No part of this paper may be reproduced in any form without permission from the publisher except for the quotation of brief passages in reviews.