The Impact of COVID-19 on People with Chronic Illness
Authors: Dr Anna Ruddock and Dr Anna Gkiouleka
The Chronic Illness Inclusion Project (CIIP) is in the process of becoming a user-led advocacy organisation for people living with energy limiting chronic illness. The CIIP began as a social action research project led by disabled people that ran from April 2017 to December 2019. It was part of the DRILL programme of disability research and continues to be supported by the Centre for Welfare Reform. 
The CIIP investigated the lived experience of people with chronic illness in the UK. The majority of its research participants live with "stamina, breathing and fatigue" impairments, which constitute the second largest impairment group in the UK (2017 Family Resources Survey). The CIIP's research is the only one of its kind to represent this important sub-group of disabled people within the UK population. Its research findings and associated policy recommendations are contained in the report: Energy impairment and disability inclusion: towards an advocacy movement for energy limiting chronic illness.
In response to the call for evidence by the Women and Equalities Committee, we conducted a survey between 15-24 April 2020 to ask about the impact of coronavirus and associated policies on people with chronic illness. The survey was open to anyone based in the UK living with at least one chronic condition. This evidence brief is based on 776 responses.
Read and download the briefing in your browser, link below.
For more information about the Chronic Illness Inclusion Project please visit: 
https://chronicillnessinclusion.org.uk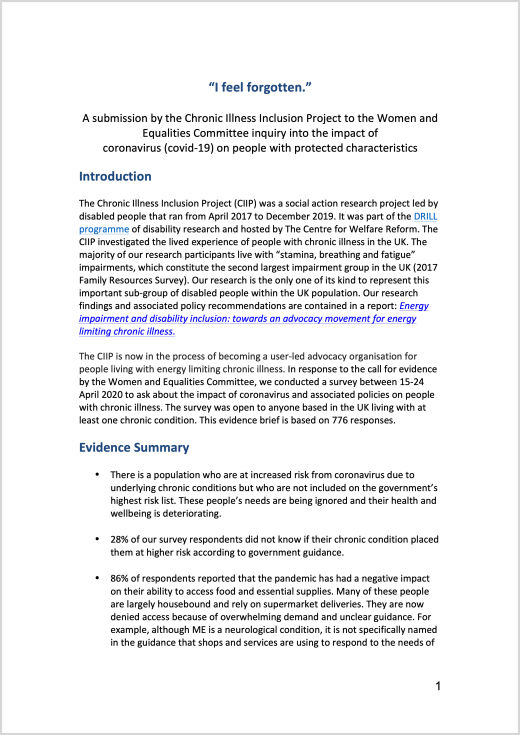 ---
The publisher is the Centre for Welfare Reform.
I Feel Forgotten © Dr Anna Ruddock and Dr Anna Gkiouleka 2020.
All Rights Reserved. No part of this paper may be reproduced in any form without permission from the publisher except for the quotation of brief passages in reviews.