Author: David Towell
Advancing the Journey to Inclusive Schooling
David Towell shares further notes on developing strategies for achieving school transformation from within, writing:
These notes are addressed to people who take up the challenge of offering leadership for school transformation. This transformation starts from our values and an educational philosophy that embraces differences and values the uniqueness each student brings to their schooling. Such leadership involves working with others to create and refine a school improvement strategy that through sustained efforts engages the many elements required for success.
Read and download the free pdf in your browser, link below.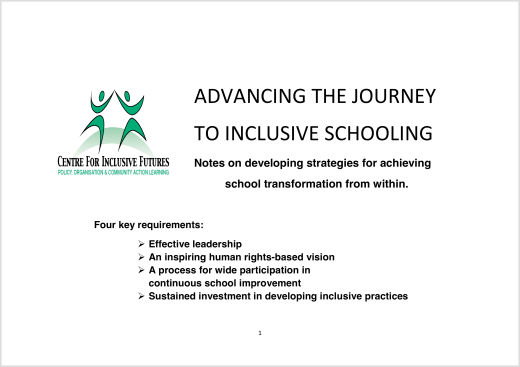 ---
The publisher is the Centre for Inclusive Futures.
Advancing the Journey to Inclusive Schooling © David Towell 2019.
All Rights Reserved. No part of this paper may be reproduced in any form without permission from the publisher except for the quotation of brief passages in reviews.