Author: IHC
Introduction: David Towell
David Towell shares this case study from IHC, New Zealand; the second in a five part series focusing on how national family associations are working to advance quality and inclusive education. 
The history of families organising for mutual aid and to support their children goes back a long way. IHC in New Zealand was founded in 1949. New Zealand is of course a rich country with a strong Welfare State. Like similar associations in other Western countries, it has grown as a major provider of services from state funding while also sustaining its role in supporting families and engaging in policy advocacy.
It's efforts to advance inclusive education started early in this history but, even so, this is still work in progress. Like our first case study from Peru, IHC's effort have been multi-faceted. Here Trish Grant, IHC's distinguished lead on advocacy, tells more of this story. She describes the multiple barriers to progress even in a very rich country. In sum, children with intellectual disabilities are subject to unlawful discrimination. Accordingly, because the legal and institutional framework in New Zealand allows this, IHC is now pursuing a lengthy strategy based on strategic litigation in relation to human rights principles. The story continues!
Read and download the New Zealand case study in English and in Spanish, links below.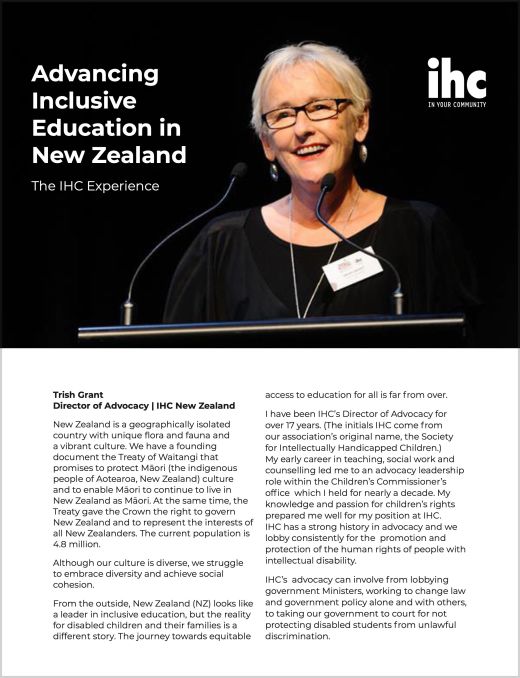 ---
The publisher is IHC.
Advancing Inclusive Education in New Zealand © IHC 2021.
All Rights Reserved. No part of this paper may be reproduced in any form without permission from the publisher except for the quotation of brief passages in reviews.