Author: Dr Melanie Heyworth
Working in partnership with professionals
In April 2017, the peer facilitators and alumni of the Now and Next program held their inaugural conference, entitled 'By Families, For Families', in Sydney, Australia. At this conference, something groundbreaking transpired, something both profoundly significant and genuinely radical: parents of young children with disability and developmental delay actively accepted responsibility for asserting their "natural authority" (Kendrick, 1995) in their partnerships with their child's professionals and therapists. 
Together, the parents contributed to and endorsed a position statement that articulated how the best partnerships and relationships develop between parents and professionals. Also – more importantly – the statement affirms our own responsibilities as parents to "lean into" leadership in these partnerships. The statement specifies the duty that we, as parents, have, to act upon our natural authority and to nurture that authority in other parents, so that we take more active control of envisioning and driving our children's goals, dreams and futures.
The conference itself was pioneering: to our knowledge, it was the first to be organized and run by families of young children with disabilities or delays, with a program guided by their needs and interests. Originally, we conceived that one of the practical outcomes of the conference would be a summary of the day, ratified by the participants. In fact, this account emerged as our position statement about the partnership between parents of children with disabilities and delays, and the professionals and therapists who work with them. Given the challenges faced by parents in establishing, maintaining, and asserting their leadership in professional relationships, we saw the need to articulate clearly not only our ideal desires for how professionals would support us, but also for how we must accept and embrace our own obligation to "step up" to be leaders. 
When your child has a disability or delay in their development, support is frequently sought from and provided by professionals and therapists. In the early years, relationships with professionals play an important part in our families' experiences and understandings of our children's abilities and future. However, many of our parents report struggling to create and sustain positive relationships with professionals and allied health partners during this time. Many parents do not feel equipped to be confident about their expertise as parents, or to assert their "natural authority", or to champion their family-preferences.
Although many organizations strive to work in family-centered ways, families do not always experience this principle in their interactions with professionals. Parents report difficulties with: communicating relevant and meaningful goals for their children to their professional partners; persuading professionals to look beyond a diagnosis to the unique needs and strengths of their child; establishing a level of mutual respect, and making sense of conflicting advice between professionals in their child's "team". Our conference offered the perfect context to engage with these issues more deeply.
A "Q&A" style panel provided the opportunity for families and professionals to discuss creating more positive partnerships. A panel of parents and professionals addressed specific questions, with interaction from the audience. The discussion focused on how to initiate, foster, and maintain positive, productive, and respectful parent-professional relationships, how best to effect change within existing professional and therapeutic relationships, how to assert parental preferences, and how to 'break up' with a therapist. 
As the session concluded, parents were asked to record what was most important to them in their interactions with professionals. As panel convener, I then brought together this feedback into an initial position statement. At the day's end, this statement was presented to the participants for their feedback and approval. The statement is firmly child-centered, and there is a clear acknowledgement that the child's needs, strengths, and unique exceptionality should be the cornerstone of any parent-professional partnership. Significantly, our parents unanimously approved this statement which emphasises the roles and responsibilities of both professionals and parents in fostering and sustaining positive partnerships. Our parents endorsed a statement that stresses the mutual roles of parents and professionals alike, and requires parents to welcome and embrace their leadership role. 
Read and download the short summary statement in your browser here.
The full text is available to read on the Now and Next Alumni blog.
The Now and Next program and Alumni are incubated by Plumtree.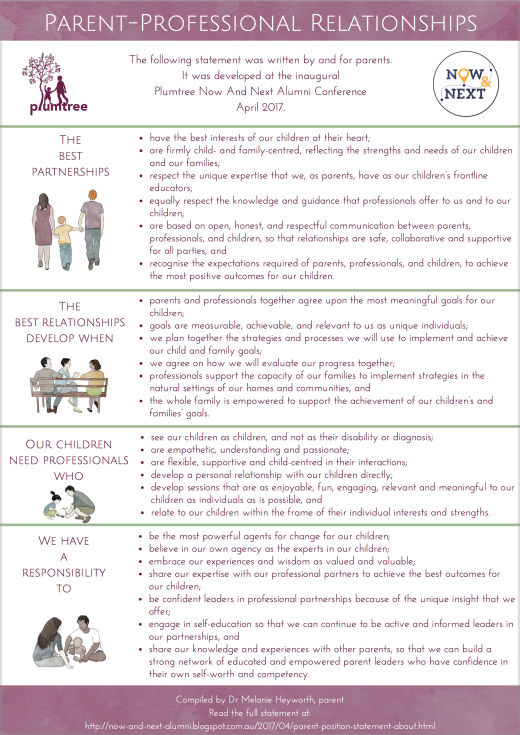 Reference
Kendrick M J (1995) The natural authority of families. Crucial Times. Brisbane, Australia.
---
The publisher is Plumtree.
Parent Professional Relationship Statement © Now and Next Alumni 2017.
All Rights Reserved. No part of this paper may be reproduced in any form without permission from the publisher except for the quotation of brief passages in reviews.