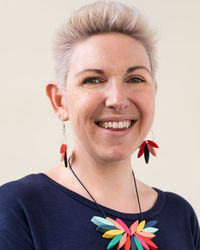 Mel is an Autistic mother of three Autistic children, who has postgraduate qualifications in Autism and is a passionate advocate for creating a better world for herself, her children, and the Autistic community.
Mel has given feedback to numerous governmental inquiries and consultations and provided testimony at Parliamentary Inquiries on behalf of the Autistic community. She sits on several advisory committees to guide respectful, inclusive best practice, and is on the Board of Directors of ASAN AU/NZ (Autistic Self-Advocacy Network Australia and New Zealand).
In 2018, Mel was accepted to participate in the Autism CRC's Future Leaders program for emerging Autistic leaders, and she continues to develop her skills to lead social change by undertaking training in person-centred facilitation, disability research fundamentals, and active citizenship. In 2019, Mel participated in the Sylvia Rodger Academy's Governance Program, which is a program designed specifically to educate Autistic adults in the requirements of governance.
As well as volunteering her time, Mel has obtained multiple grants to establish different programs, including a Minecraft Mentoring program for Autistic children aged 7-12 in which the Autistic children were Mentors to their non-autistic peers.
The cornerstone of Mel's advocacy vision is the newly formed not-for-profit organisation, which she originally founded as a family education group in 2017 and continues to run: Reframing Autism. Reframing Autism is run by and for Autistic people, and for their families and allies.Reframing Autism aims to create a world in which the Autistic community is supported by families and allies to achieve genuine acceptance, inclusion, and active citizenship, and in which Autistic culture and identity are celebrated and nurtured.
Mel has a deep commitment to bringing parents of Autistic children to a more accepting, optimistic and hopeful parenting perspective, and firmly believes that social change can only occur when Autistic individuals are supported to explore and celebrate their authentic identities.