Editors: Alex Thorp and Jemma Egan
Artists: Emma McGarry and Adam J B Walker
Multiple contributors are listed within the publication.
From the Introduction by Alex Thorp:
This booklet is a celebration of difference, a collection of proposals for more inclusive schooling and an expression of solidarity with the many other children and families who face ongoing discrimination in the UK schools system. It has been developed by parents, children and early years workers from the Portman Early Childhood Centre, a state-maintained nursery school in north-west London, in collaboration with artists Emma McGarry and Adam J B Walker, and was commissioned by Serpentine Education.
The publication brings together multiple different voices and can be read as a conversation between parents, children, artists, curators and early years workers.
Find out more about the project at:
www.serpentinegalleries.org/learn/changing-play/special-rights
and the Portman Early Childhood Centre at:
www.westminster-ne-centres.co.uk/en/about/
Download and read the free pdf in your browser, link below.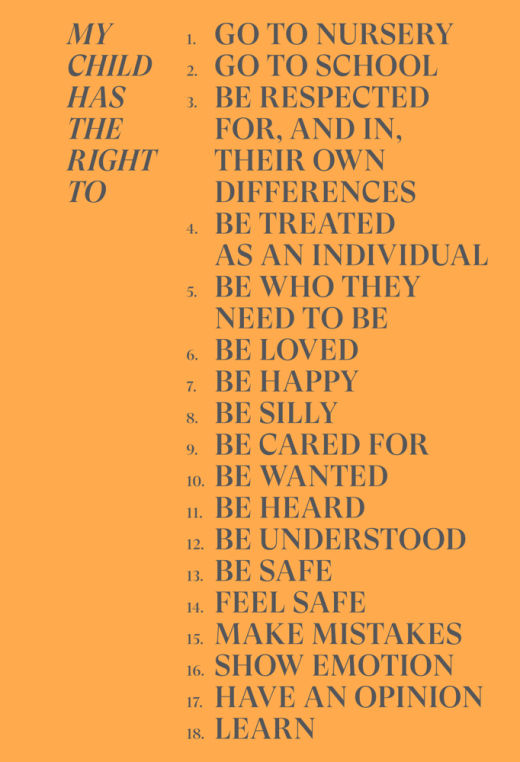 ---
The publisher is Serpentine Education.
Special Rights © Serpentine Education 2018.
All Rights Reserved. No part of this paper may be reproduced in any form without permission from the publisher except for the quotation of brief passages in reviews.