Author: Dr Annick Janson
Invisible disabilities include specific developmental disorders, or conditions including muscle weakness, coordination and communication difficulties, cognitive delays, specific learning disabilities, emotional and behavioural problems and lack of inhibition leading to socially inappropriate behaviour.
"This report is a based on our New Zealand youth and their family's experience of life with an Invisible Disability. It has allowed us to pull together multiple resources so that we now present a snapshot of Invisible Disabilities in New Zealand right now!

"The Invisible Disabilities Cube decided that it was time that New Zealand needed to grab hold of the old "No 8 wire" practice and start the process of finding out and reporting on what is really happening in the NZ landscape. What are we, who work and live within this sector, doing to help ourselves, our clients and their families using what we have here, in New Zealand, right now? It is wonderful that there is currently so much forward planning. We can look forward to expected outcomes in 2020, 2023 or perhaps in 2026 – yet what's happening right now? Who is looking after the children who do not fit into, yet are going through the 'mainstream' systems right now? What about their future?"

From the Introduction to the report
In her research Dr Janson found that:
Families are overwhelmed, anxious and disempowered when they encounter barriers to enrolment and participation in the education system that promises that they will be catered for.
An 'alarming 13%' of children with disabilities do not attend school all day. Parents stated that inclusion is not only about funding hours and budgets, but also about teaching models. Parents' expectations of good services from Special Education services has decreased from 67% in 2011 to 60% in 2015.
Parents report frequent negative experiences of issues regarding lack of funding, lack of teacher knowledge, negative teacher or school principal attitude. 33% of families report restrictions on their child's hours of attendance, and expectations that families fund teachers' aides.
60% of these parents have the perception that their children's education is inferior, and despite the Ministry of Education policies of inclusiveness, that their children with invisible disabilities did not receive the same benefits of a free and compulsory education as their non-disabled peers had.
Parents are often referred to extra-curricular programmes instead of there being support or skills being provided within the 'inclusionary' school system.
Around 40% of parents reported a negative and bullying climate for their child, and lack of curriculum adaptation.
The Invisible Disabilities Cube Collective is committed to continuing to work together directed by the voices of their stakeholder group. They need to be recognised as key partners with government departments; co-designing policy development, implementation and review. More research is needed in areas such as health, education, justice to ensure that project and programme design is meeting the true needs of the stakeholder group.
Read and download the free pdf in your browser here.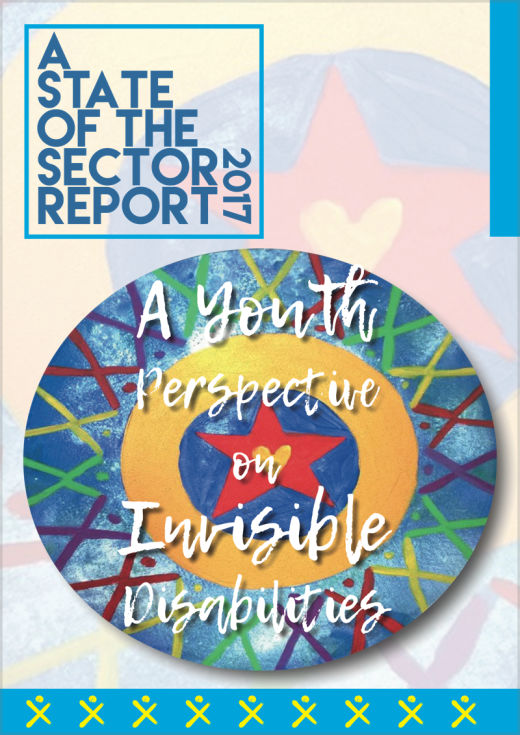 ---
The publisher is The Cube.
State of the Sector Report: A Youth Perspective on Invisible Disabilities © The Cube 2017.
All Rights Reserved. No part of this paper may be reproduced in any form without permission from the publisher except for the quotation of brief passages in reviews.