Hatty shares her experience of living with schizophrenia and the value of personalised support - the kind of flexible and individualised support that iDirect provide - but which is still too unusual. 
You can find out more about iDirect and personalised support by looking at some of the resources listed at the end of the film.
Hatty also shares her experience in her own words below:
My name is Hatty and I have paranoid schizophrenia. I am 33 years old. The first quarter of my life was fairly normal, but in the second quarter I started to be unwell. Nobody knew what was wrong with me and I began cutting myself and starving myself because I didn't know how to cope with the voices and the Albino Man. I spent the whole of the third quarter of my life locked in Secure Units in an attempt to keep me safe. 
I made some good friends, but my quality of life was very poor and I could see no way out.
The fourth quarter of my life so far has been spent happily in my own flat. I have a great team of support workers who are with me 24/7. I am living in the town where I grew up and have reconnected with old friends.
At the end of last year, I was asked whether I would make a film about my experiences. I was a bit nervous, but I really enjoyed the process. I think that it is a great way of saying thank you to all those people who believed that I could move safely into the community and make a good life for myself!
In the film you will see me with my mum and my boyfriend Adam. It gives a brief view of what my life is like. The voices and the Albino Man are still really frightening, but I am helped by having the right medication and the support of my family and friends.
Recently, there have been some brilliant conversations about mental health and I hope that my film will help everyone's understanding of what it is like to have schizophrenia. 
Please watch it – and if you would like to know more, then I would be happy to talk to you.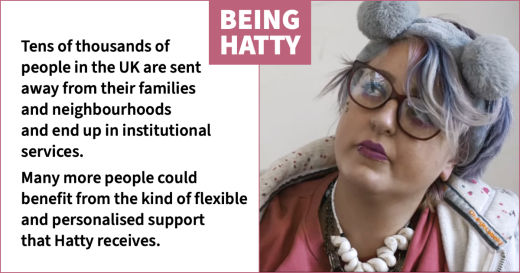 The film was produced by Opus Independents and iDirect.
Find out more about iDirect's work at: https://www.idil.co.uk
And, Opus Independents at: https://weareopus.org