We need to break down the walls that divide us. We need to break down the walls that keep people outside community life. So we have come together to explore what it means to be a day centre without walls.
Who are we?
The Day Centre Without Walls project is led by Puzzle, which is a social enterprise based in Greece. Current partners include:
Association of Parents and Friends of People with Autism in Rethymno from Crete in Greece
Papillons Blancs de Lille from Lille in France
Social Coop: Kara Bobowski from Modigliana in Italy
Jaunuolių dienos centras (JDC) from Panevėžys in Lithuania
The Centre for Welfare Reform will be linking in 2 groups from England and Scotland and, working with Citizen Network, will help communicate the findings of the project to the widest possible audience.
The 18 month project is funded by the European Union's Erasmus+ programme and is supported by the Greek national agency the State Scholarships Foundation (IKY). Our purpose is to collect good practices at European level of initiatives that promote the active participation of people with intellectual disabilities in the community: supporting them to leave the day centres and be active through volunteering, employment or civic participation.
What is a day centre without walls?
The idea of a day centre is not always positive, often day centres can be:
Institutional - controlling what people do
Segregated - not connected to the community
Stifling - not allowing people to develop and contribute
Often people think that the walls of a centre provide safety. But walls do not create safety… 
What creates safety is citizenship:

having confidence their voice will the heard
being in control of their lives
making powerful connections with others
contributing to the life of the community
Some people may not want to use a day centre, some people may work, volunteer or contribute in other ways and everyone has the right to decide how they want to live for themselves. But sometimes people with intellectual disabilities do want to come together and work together.
This project is exploring how day centres can be a different kind of place. Over the life of the project we hope to better understand what it means to be a Day Centre Without Walls. Our first definition is that a Day Centre Without Walls is a community where:
1. The work people do has real meaning for them
2. People have ownership and freedom in their work
3. The community is economically and socially sustainable
4. People is creating a welcoming and inclusive community 
5. People are working together as equals for mutual benefit
6. People are agents of wider social change in their community
7. People are finding and forming deeper personal relationships
This is the initial framework of DC without walls and this our draft graphic which we will improve over the life of the project: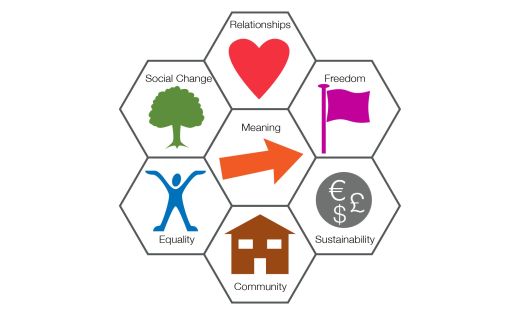 What are examples of day centres without walls?
Around the world more people and communities are challenging the low expectations that people have of people with intellectual disabilities and they are showing that people with intellectual disabilities are innovators, contributors and brilliant citizens.
The projects will be sharing their own examples and creating new innovations as part of this project. For example JDC created the idea of Solidarity Coffee to help breakdown walls in their community. 
In Italy Cooperativa Sociale Kara Bobowski is working across the community to strengthen inclusion for all citizens. You can see their Italian project page for Day Centres Without Walls here: centri diurni senza mura
We will be sharing more examples from the project partners over the next few months.
We are also interested in any new examples of innovation. Please share your story with us by contacting Citizen Network here.
Here are a just a few existing examples of innovations from Citizen Network members which show what can be achieved if we think without walls:
PFG Doncaster are a peer support group who have come together to provide each other with support and to improve their local community. They include people with mental health problems and people with intellectual and other disabilities. Their work has created enormous social value as people discover that they are their own best source of support.
The TAP are a community group from Minnesota in the USA. They began life in a local café and reached out to create an inclusive and transformative community which breaks down barriers and enables people to find and create new community activities that make sense to them.
The Spoon is a café and community enterprise in Glasgow, Scotland. It is a place for the whole community to meet and a source of work experience and real jobs for people with intellectual disabilities. Another great community café and Citizen Network member is Myrtillo in Athens. A place where food and drink are served seems to be a great space to build community.
OmaPolku (my path) from Tampere in Finland is an inspiring organisation who support young people with intellectual disabilities to develop their artistic abilities and take their place with the wider artistic community. Lyhty from Helsinki have produced a wide range of innovative projects to enable people to take their place as full citizens - including the amazing punk rock band PKN. Art, music and creativity is another area where people can demonstrate their citizenship.
Another important area for change is the protection of the planet and the need to take care of the natural world. Eco Shed is a development in Kent, in England created by Bemix and collective of disabled and non-disabled people. The Big Red Food Shed in Chesterfield, also in England, is another example of focusing on food and nature to create inclusive work opportunities.
Of course paid work continues to be one of the most important routes to citizenship and Values Into Action Scotland continue to lead ground-breaking work on this topic.
What have we missed? 

Get in touch, join Citizen Network and get involved in the Day Centres Without Walls project.