Authors: Frances Brown and John Dalrymple
Too many people with learning difficulties are sent away from their own communities and placed in institutional care services. This practical guide, based on decades of best practice, shows how we can bring everyone home. 
From the Preface:
'... the difficulty of bringing people back home once they have been placed a long way away is so great that every effort should be made to avoid such placements.'
That place of great difficulty is where this guide starts.

People with learning disabilities and challenging behaviour have continued to be placed in long-stay institutions, often a long way from home. New 'placements' of this kind have not always been avoided, and some people have not yet been afforded the opportunity to plan for their departure.

Yet the urgency of the need to help people make their journey home is undiminished. They are not living in safe surroundings. Jim Mansell understood this too. When news of the scandal at Winterbourne View first broke, and some were assuming that it might reflect a problem specific to that particular institution, he was clear in his analysis: 
'The real solution... is to stop using these kinds of places altogether. Who will hold local health and social services to account to make that happen?' 

Mansell, 2011
This travel guide demonstrates tried and trusted methods for navigating the difficult road home. (The guide demonstrating how to avoid that difficult journey in the first place is perhaps for another day, though its outline can be discerned from the principles and practices described here.) But it also affords all of us, as concerned citizens, a set of principles, ideas and practices we can use to hold each other to account in making sure these journeys are taken.
Read and download the free pdf in your browser, link below.
A hard copy of the guide is available to buy via Amazon.
To order copies in bulk please email: admin@centreforwelfarereform.org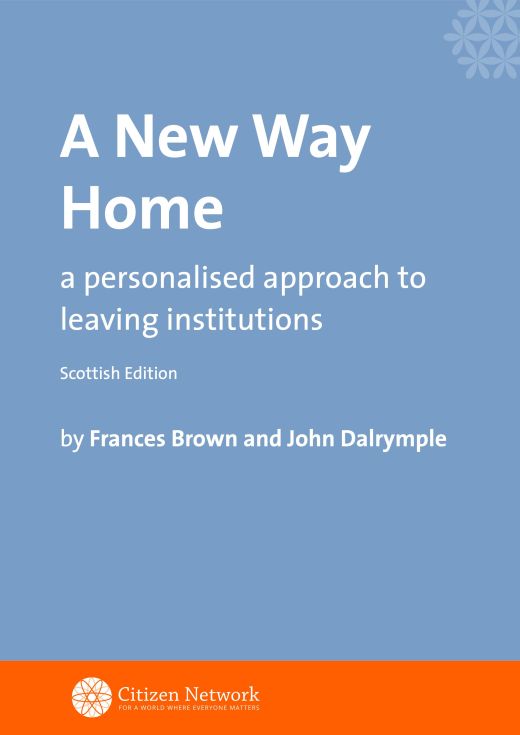 ---
The publisher is the Centre for Welfare Reform.
A New Way Home (Scottish Edition) © Frances Brown and John Dalrymple 2021.
All Rights Reserved. No part of this paper may be reproduced in any form without permission from the publisher except for the quotation of brief passages in reviews.