Author: Simon Duffy
The Joint Committee on Human Rights recently called for submissions on the treatment of children within Assessment and Treatment Units (ATUs), which is the name used in England for extreme institutions. The Centre's submission calls for the complete closure of these institutions and describes the practical, financial and policy problems that are causing institutionalisation, segregation and abuse.
The paper outlines:
Historical background to the existence of ATUs
Harms caused by ATUs and institutions
Additional harm caused by Austerity
System failures that lead to institutionalisation
Need for family-based support and solutions
Cultural and organisational change required in social care
Perverse financial incentives that must be changed
Limits of regulation that must be recognised
How the process of closure should be phased
Human rights protections for people with learning disabilities or autism
The submission is based on the collective experience of the Centre's Fellows, many of whom have worked, or continue to work, to end institutionalisation and to provide personalised support.
Read and download the free pdf in your browser, link below.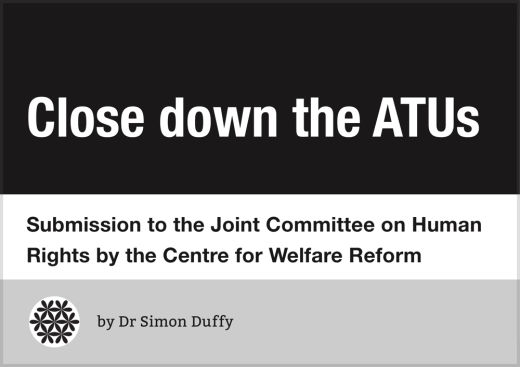 ---
The publisher is the Centre for Welfare Reform.
Close down the ATUs © Simon Duffy 2019.
All Rights Reserved. No part of this paper may be reproduced in any form without permission from the publisher except for the quotation of brief passages in reviews.