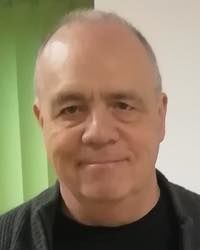 John Dalrymple is a Citizen Network Coop Supervisory Board Member.
I have worked as a social worker in Scotland since the mid-seventies, developing and delivering services for disables people. I am committed to the advancement of human rights; and to the transfer of power and control from welfare bureaucracies to the people who rely on welfare systems for the support they need to have their human needs met and their human rights fulfilled.
Citizen Network Coop is so important because we live in a world where equality of citizenship is at a premium, and competition is prized much more highly than cooperation.
John is the Director of Radical Visions and an experienced social worker who has spent the majority of his career working in services for people with learning difficulties in Scotland.
Following the completion of an honours degree in English Literature and a post-graduate CQSW, John began his career as a generic social worker in Glasgow and Galashiels. He worked in a variety of roles in the multi-disciplinary Borders learning disability team in the eighties, and in the early nineties was Principal Officer for Learning Disabilities for Strathclyde. Subsequently, while Resettlement Project Manager at Lennox Castle Hospital, he supported Simon Duffy's work in founding Inclusion Glasgow.
John was the first employee and chief officer of the Grampian based Partnership Housing (now INSPIRE), and in 1998 co-founded Support for Ordinary Living, a supported living organization working in Lanarkshire. With Simon Duffy and others he was a founder of ALTRUM, and sits on the Board of In Control Scotland, having previously been seconded to work with Frances Brown as its Joint Development Team Leader. John contributed to the Scottish review of learning disability services, The Same As You? (2000), and was instrumental in establishing Values Into Action Scotland as an independent Scottish agency in 2007.
John lives in Biggar, South Lanarkshire, with his wife Moira, and is keen on Hearts, jazz and Scottish self direction. His daughter Emma, is a recent law graduate and works for Childline Aberdeen.
Find out more about the work of Radical Visions at: https://radicalvisions.co.uk