Authors: Simon Rippon and Mark Gamsu
In this paper the authors offer advice for Local Government on how to extend and strengthen the application of the Local Area Coordination (LAC) model in practice.
From the Summary:
This briefing offers three elements that are relevant to those localities seeking to adopt and develop Local Area Coordination. Firstly, we highlight some of the key features that Local Area Coordination managers and those tasked with implementation see as being highly important to practice and development. Secondly, we consider some key insights from senior leaders whose task has been to champion Local Area Coordination in the context of wider system reform and finally we offer a Theory for Change that provides headline statements that we see as being congruent to lessons from implementation. This Theory for Change provides a means for local system champions and implementors to frame a narrative, to explore practical and tactical challenges that can support implementation. We remind readers of the key principles for Local Area Coordination and how these form the bedrock for local adoption of the programme, the Theory for Change is designed to set out some of the context and opportunity for local implementation.
Read and download the free pdf in your browser, link below.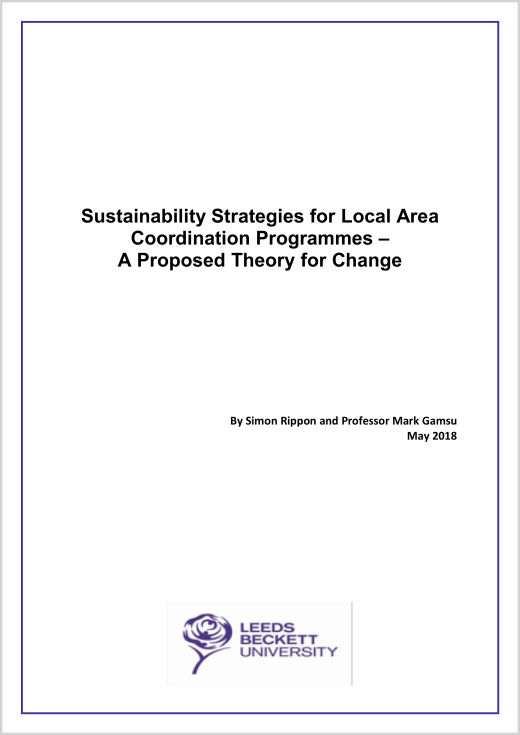 ---
The publisher is Leeds Beckett University.
Sustainability Strategies for Local Area Coordination Programmes © Simon Rippon and Mark Gamsu 2018.
All Rights Reserved. No part of this paper may be reproduced in any form without permission from the publisher except for the quotation of brief passages in reviews.