Local Area Coordination is an evidence-based approach to personalisation, capacity building and social care reform which has a long and positive history. It nurtures individual, family and community assets and strengthens the capacity of communities to welcome and include people at risk of exclusion and inequality. It also promotes cultural change and drives reform of the existing service system, making services more personal, flexible, accountable and efficient.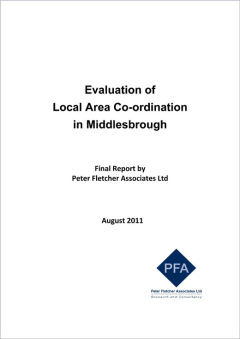 This very useful report outlines early outcomes, lessons and opportunities from the first evaluation of Local Area Coordination in England, which took place in Middlesbrough.
---
The publisher is Peter Fletcher Associates.
Evaluation of Local Area Co-ordination in Middlesbrough © Peter Fletcher Associates 2011.
All Rights Reserved. No part of this paper may be reproduced in any form without permission from the publisher except for the quotation of brief passages in reviews.