Author: Henry Tam
What makes for a decent community? Henry Tam, philosopher, community activist and government advisor, offers a powerful framework for the keys to community - Synetopia. This approach is flexible and can be applied to any genuine community, but it is also challenging and elevates our sense of what a community can and should be.
His essay is part of the Need for Roots series which explores the ideas and values that should underpin genuine reform of the welfare state. Tam carefully avoids any prior commitment to this or that ideology, instead he examines the essential elements of all communities in terms of our responsibilities, the process of learning and the what flows from the need to work together. What emerges is a different kind of theory of justice.
However this is not a form of abstract musing, the implications of Tam's model are highly practical and political. In particular he helps explain how the decline in social justice in the UK is closely linked to the failure to promote political literacy and civic thoughtfulness. We do not pass on to each generation the tools to understand politics, to feel responsibility for our communities or to work together to improve them. The reversing of social progress in the post-war process is not so much caused by the emergence of the shallow ideology of neoliberalism, rather it is that we have not developed the art of ruling ourselves and teaching our children to understand and exercise their responsibilities.
When we allow an elite to 'take care of us' then we effectively abandon justice and we abandon our communities to the paternalism or greed of others. Only by educating ourselves and beginning to take back control of our multiple communities, with self-discipline and a genuine regard for the value of other people, will we be a bel to reverse our slide into injustice.
Read and download the free pdf in your browser, link below.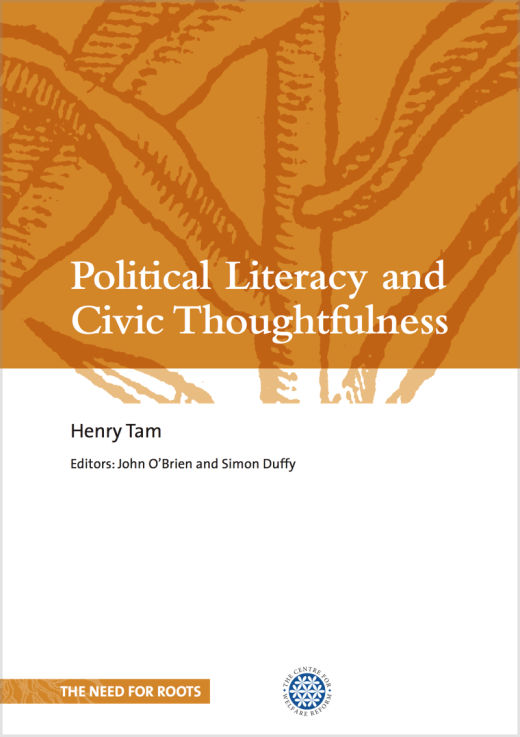 ---
The publisher is the Centre for Welfare Reform.
Political Literacy and Civic Thoughtfulness © Henry Tam 2016.
All Rights Reserved. No part of this paper may be reproduced in any form without permission from the publisher except for the quotation of brief passages in reviews.