Authors: Heidy Tatiana Araque Sierra and David Towell
Never doubt that a small group of thoughtful and committed citizens can change the world; indeed it's the only thing that ever has.
This famous quote from Margaret Mead is a source of inspiration to countless small groups and networks seeking through local efforts, often over many years, to promote improvements in the lives of their communities. 
This latest paper from David Towell and his Colombian colleague, Heidy Araque, seeks to explore what this quote means in practice through reflection on five years in the life of one such group, the inclusion network (la red inclusiva) based in the North East Colombian city of Bucaramanga.
The story is from far away but the reflections on what makes for sustainability and effectiveness in the work of such groups will find resonance much nearer home.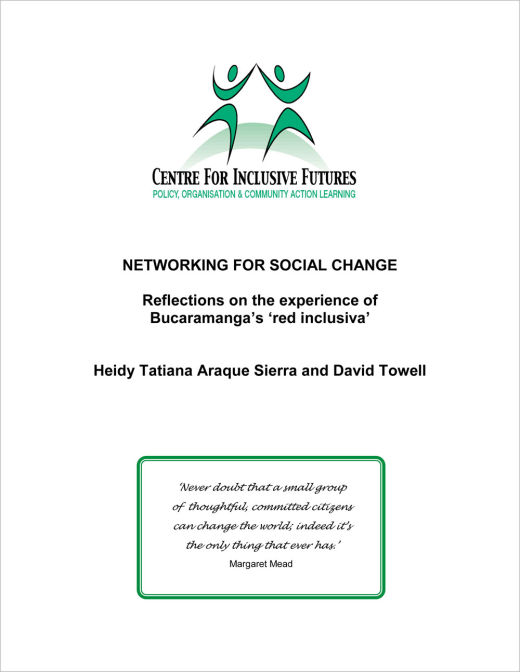 ---
The publisher is the Centre for Inclusive Futures.
Networking for Social Change © Heidy Tatiana Araque Sierra and David Towell 2013.
All Rights Reserved. No part of this paper may be reproduced in any form without permission from the publisher except for the quotation of brief passages in reviews.