Author: Dr Lynne Friedli
There is growing interest in the idea of mental wellbeing as a precious resource - for individuals, families and communities - and mental health is crucial to understanding the impact of material inequalities – on health, on life chances and many other outcomes. But understanding inequality is also fundamental to recognising the limitations of what promoting mental health and a 'wellbeing focus' can achieve.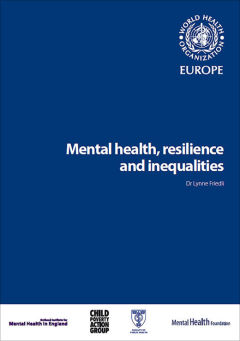 Dr Friedli's important World Health Organisation (WHO) report calls for greater acknowledgement of the relationship between material circumstances and mental health and for the value of social justice, rather than the empty optimism of positive psychology.
The report explains why we should take mental health much more seriously and why mental health should not be treated like a simple physical illness. It also draws together a range of different studies from across the world and makes a very compelling case for rethinking our whole approach to mental health. 
In particular:
Mental health is vital to our well being
Mental health has a powerful impact on our physical health and the length of our lives
Mental health is strongly influenced by social factors, particularly inequality, injustice and powerlessness
Just as mental health is social, so should be our approach to improving it. Instead of strengthening systems of professional power and control over people with mental illness, communities need to work together at the political, local and individual level to promote resilience and mental health.
We may die alone, but we should live with others.
---
The publisher is the World Health Organisation.
Mental health, resilience and inequalities © World Health Organisation 2009.
All Rights Reserved. No part of this paper may be reproduced in any form without permission from the publisher except for the quotation of brief passages in reviews.