Author: Simon Duffy
Citizenship & Community - finding the key to Total Place is a paper that outlines the relationship between active citizenship and community development.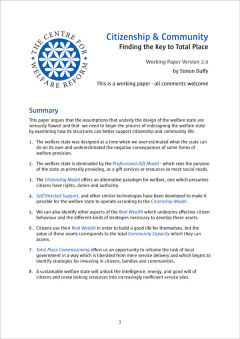 The paper also explores how new concepts like Total Place could be usefully applied to provide a better framework for commissioning decisions at a local level.
---
The publisher is The Centre for Welfare Reform.
Citizenship & Community © Simon Duffy 2010. 
All Rights Reserved. No part of this paper may be reproduced in any form without permission from the publisher except for the quotation of brief passages in reviews.