Publisher: Sheffield Branch of the Socialist Medical Association (1951)
This paper was published by the Sheffield Branch of the Socialist Medical Association (today known as the Socialist Health Association) in 1951. It provides a fascinating glimpse back to social policy and condition in post-war Sheffield; but it is also a sobering reminder of how slow social progress can be. [Thanks to Jack Czauderna for sharing this with us.]
The good news is we now tend to live longer and that the population of people over 65 in Sheffield is now 16% (although it was already 11% in 1951 - so it is not that strikingly different). However some things are the same and some things are worse:
Poverty for older people remains a major problem
Institutional provision has actually increased since 1951 and the numbers of people living in their own home has declined
The problem of paternalism was recognised then, and doesn't seem to have changed today
This brochure is full of good ideas, some now seem a little dated, but actually many still feel very relevant today focusing on:
Make it easier for people to live in their own place, but with support
Increase pensions
Make it easier for people to contribute to their community
Strengthen and supporting family
Create community-based solutions
 What I suspect took us wildly off track was the determination in the 1980s to solve every problem through privatised solutions and the massive expansion of the care industry. If instead we had focused on growing our social and community structures to include and support older people then we would have a richer and stronger community today.
Read and download the free pdf in your browser, link below.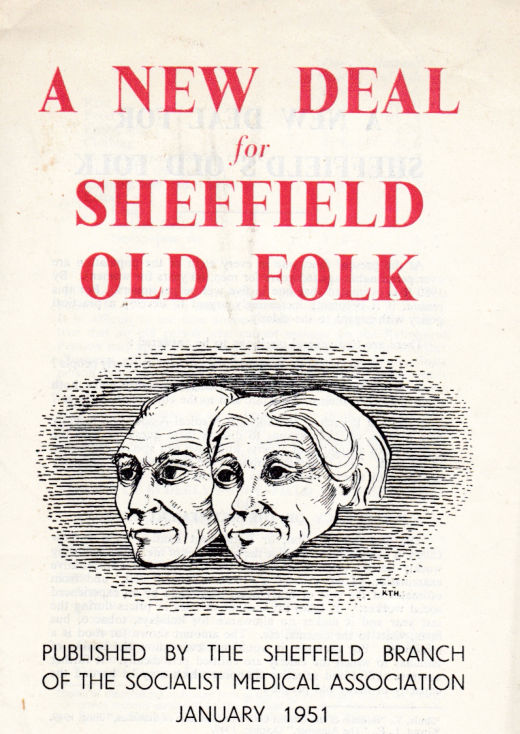 ---
The publisher is the Sheffield Branch of the Socialist Medical Association.
A New Deal for Sheffield Old Folk © Sheffield Branch of the Socialist Medical Association 1951.
All Rights Reserved. No part of this paper may be reproduced in any form without permission from the publisher except for the quotation of brief passages in reviews.