Self-Directed Support is often described as a process of seven steps, by means of which people can be in control of their lives and any support they need to live it. However processes are not enough, any new way of working also needs to be underpinned by the ethical principles that safeguard the process from misuse.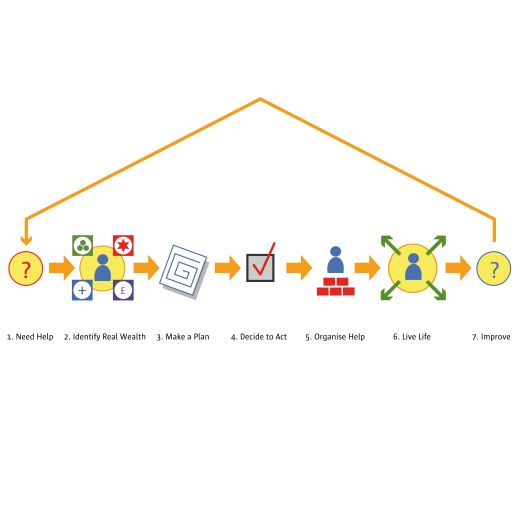 The following seven principles have been developed by Simon Duffy and Don Derrett. They would welcome any challenges or suggestions for improving them:
1. Independent living - we have the right to be a citizen with full access to ordinary lives
I have a right to live my life in a way that makes sense to me.
2. Entitlement - we are each entitled to enough support to achieve citizenship
I have a right to enough support and a right not to be over supported.
3. Self-determination - we should be in control of our own lives
I have a right to make decisions about how I live my life and, if needed, I have a right to be supported by people who know me and love me to make those decisions for and with me.
4. Openness - we should be clear about any rules or systems
I have a right to be told clearly and simply how the system of entitlement works and how the rules affect me; including how much money I am entitled to for my support.
5. Flexibility - we should be free to use our own entitlements as we see fit
I have a right to use my money in any way that helps me to live my life; including the freedom to take risks, make mistakes and learn from them.
6. Learning - we should share what we are learning to help everyone 
I have a responsibility to share with others what I have learnt works for me and what doesn't work for me.
7. Contribution - we have a responsibility to contribute and to build stronger communities
I have a right and a responsibility to use my skills, talents and knowledge to play a full part as a citizen in my community.
---
The publisher is The Centre for Welfare Reform.
Principles of Self-Directed Support © Don Derrett and Simon Duffy 2012.
All Rights Reserved. No part of this paper may be reproduced in any form without permission from the publisher except for the quotation of brief passages in reviews.