Author: Monica Cortes
Introduction: David Towell
This is the third in our series of case studies on how national family associations in the field of intellectual disability are working to advance quality and inclusive education for all. So far we have heard from Peru and New Zealand, here Monica Cortes reports from Colombia.
As we have already seen, leaders of such associations need to work hard both to build their association's capacity to achieve positive change and find good ways of engaging with the education system at many levels. Monica has produced the following diagram to summarise the most important of these activities and interactions in the case of Asdown.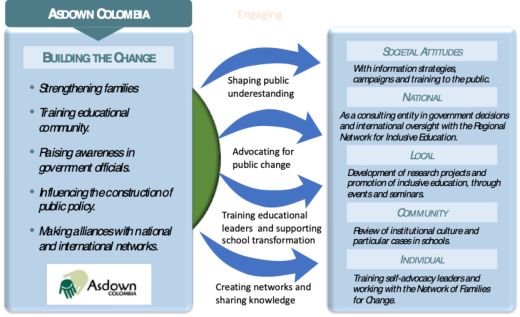 Monica Cortes, a mother herself and also a teacher, has been the energetic Executive Director of the Colombian family association Asdown over the past 15 years. She tells a fascinating story of civil society advocacy, starting of course from family experience but gradually finding ways to exert influence up to the levels of national government - and indeed to both learn from and contribute to international progress.
There is a lot to be learnt from Asdown's experience. 
Read and download the Colombian case study in full in English and Español, links below.
---
The publisher is Asdown.
Advancing Inclusive Education in Colombia © Monica Cortes 2021.
All Rights Reserved. No part of this paper may be reproduced in any form without permission from the publisher except for the quotation of brief passages in reviews.