WomenCentre has developed a sophisticated and dynamic model of support. It integrates the best features of personalisation - supporting women to get their lives back on track; yet it works through collective action - using a mixture of peer support, volunteering and professional support.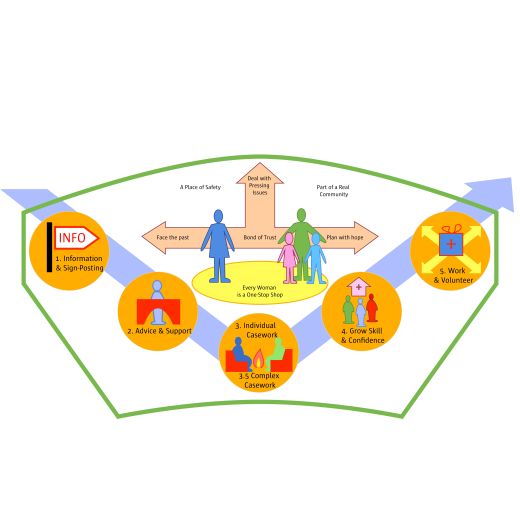 Background
WomenCentre started as women's health collective and it remains focused on the wellbeing of all women and their families. It is based in Halifax and works across Calderdale and Kirklees. Over time its model of working has developed. It works to strengthen the capacities of all local women - but it combines this approach with a focus on women with the most severe needs.
The Heart of the Model
At the heart of the model is the relationship which forms between women, working together to:
create safety
deal with pressing problems
plan for the future with hope
face the harms of the past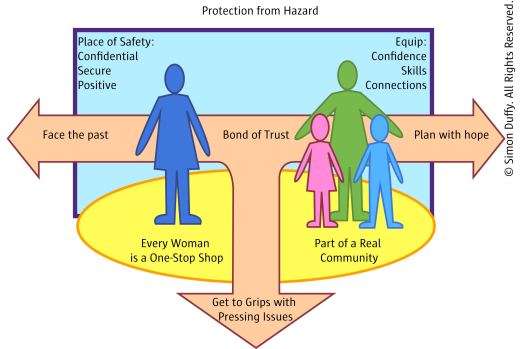 It is particularly important that women are not asked to bounce around between services and professionals. Instead WomenCentre offers a coherent and supportive community of women who will work to resolve any and all problems - getting the right external support where that's necessary.
None of this is possible without building a bond of trust between women.
Dynamic Model of Service
Instead of targeting support WomenCentre offers a coherent and dynamic model of support that enables women to get the right level of support for them:
Information and sign-posting
Advice and support
Case-work, and
Intensive case work
Training and education
Volunteering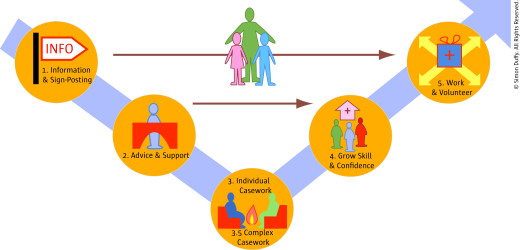 Women are always seen as on a dynamic and personalised path to their own recovery, their own citizenship. Support does not make women dependent - instead the service models the kind of progress that WomenCentre knows is possible for all women - however bad things might be.
---
The publisher is The Centre for Welfare Reform.
WomenCentre Model © Simon Duffy and Clare Hyde 2011.
All Rights Reserved. No part of this paper may be reproduced in any form without permission from the publisher except for the quotation of brief passages in reviews.