Personalisation and the Social Care Revolution
Authors: Simon Duffy, John Waters and Jon Glasby
This paper provides an overview of personalisation in social care.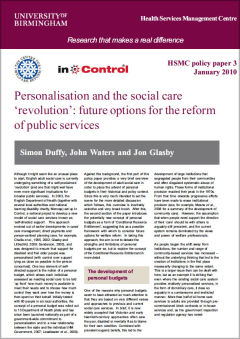 In particular it argues that at the heart of technological developments like individual budgets and self-directed support is a new contract between the state and the citizen: a Conditional Resource Entitlement.
This discussion paper on personalisation has been published by the Health Service Management Centre at the University of Birmingham.
Documents
Paper | 20.10.09
local government, politics, social care, Paper