How Personal Budgets for Social Services Are Transforming Lives
Author: Matt Burgess
The Think Tank, The New Zealand Initiative have published an important report summarising progress on the development of Individualised Funding (IF) [also known as Personal Budgets] for disability supports in New Zealand. They concluded that IF brings about significant benefits:
Dignity from control over who comes into your home
Independence
Better service flexibility
Increased service reliability
Improved decision-making
Best use of available funds
Greater continuity of support
43,000 people receive disability support in New Zealand and around 8,000 now have some form of Personal Budget. Budgets are set based on an assessment of the recipient's disability support needs. Each recipient has full control over their own budget. Since March 2020, they can buy any combination of support services they choose, within rules called purchasing criteria.
You can read The New Zealand Initiative's summary of their findings here:
https://www.nzinitiative.org.nz/reports-and-media/reports/the-power-of-freedom/
Rt Hon. Bill English, Chair of Manawanui, says of the report:
"This report lifts the lid on a successful policy experiment. It turns out that self-directed people with disabilities make good decisions – there is a high level of compliance in spending public money, and the majority run under budget. They can be trusted. More importantly, self-direction significantly lifts their sense of self-worth and wellbeing. With further uptake of individualised funding, more people could benefit, including those with learning needs supported through the Ministry of Education, and those with mental health needs and older people currently supported through District Health Boards."
Read and download the free pdf in your browser, link below.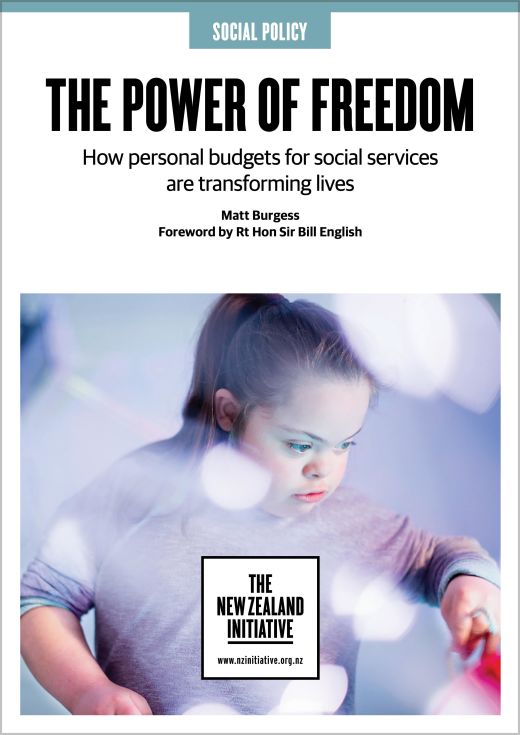 On Friday 27 August 2021, The New Zealand Initiative hosted a webinar to launch the report. Contributors included: Lisa Holten, whose daughter Sarah has Rett syndrome and requires specialist care, Philip Patston who has used the individualised funding model to live a more fulfilling life and the Rt Hon Sir Bill English, Chair of Manawanui, the largest individualised funding support service in New Zealand and one of the founding members of Citizen Network.
Watch the recording of the launch in the film below:
---
The publisher is The New Zealand Initiative.
The Power of Freedom © The New Zealand Initiative 2021.
All Rights Reserved. No part of this paper may be reproduced in any form without permission from the publisher except for the quotation of brief passages in reviews.