These stories of recovery offer an insight into the simple but powerful impact that giving people modest amounts of money - and the means to control it - can play in helping people recover from mental illness.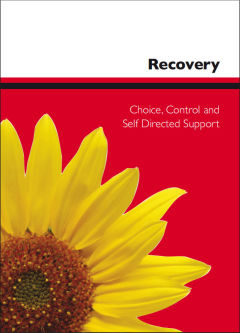 The stories remind us that people with mental health problems are often living in poverty - trapped without the means to do everyday things. We see that it is hope that is at the heart of recovery. 
Money on its own does not make the difference - money that people can control and direct themselves can be very powerful.
And, we see that people often do simple but effective things to improve their mental health:
Get out and about
Join a gym
Volunteering
Getting a job
Meeting new friends
Reconnecting to old friends
Learning new skills
Singing and entertaining
Massage
Playing golf
Learning to swim
These stories challenge us to avoid any approach to recovery which is not rooted in both a commitment to self-direction and our full involvement in community life.
Wendy Szczesiak, Service Development Manager at Hertfordshire Partnership NHS foundation Trust writes:
Each year  produces a recovery booklet and in 2010 this focused on personalisation. All service users receiving a direct payment were contacted and asked if they would like to contribute to the recovery booklet. We had several responses and their recovery stories with a carers account have been put into the booklet. The photo's used were taken by a service user who used his direct payment to purchase equipment and one years membership to National Trust and local Zoo. From these stories you will be in no doubt that direct payments have enabled these individuals to move on in their recovery journey and live more fulfilling lives.
---
Thanks to Hertfordshire Partnership NHS foundation Trust for sharing this booklet with the Centre.
This publication was edited and co-ordinated by Chris Munt. 
With special thanks to Hertfordshire Partnership NHS Foundation Trust Self Directed Support team.
© Hertfordshire Council and Hertfordshire Partnership NHS Foundation Trust 2010.