Author: Simon Duffy
A New Script for Care Managers argues that social workers have been held back from being able to provide the most appropriate support to people in need.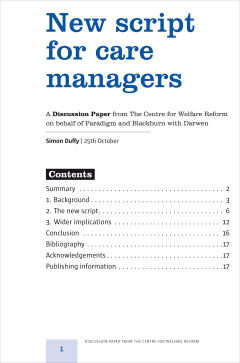 It sets out a new approach which would enable care managers to provide more focused support to those who needed it and more enabling support for those who did not. It also sets out how the whole set of community-based support could be better utilised by more strategic leadership from local government.
It will shortly be tested and further developed in Blackburn with Darwen and pilot sites in Yorkshire & Humber.
This publication has been produced with the support of Blackburn with Darwen and Paradigm. 
---
The publisher is The Centre for Welfare Reform.
New Script for Care Managers © Simon Duffy 2010. 
All Rights Reserved. No part of this paper may be reproduced in any form without permission from the publisher except for the quotation of brief passages in reviews.