Please note the group have now changed their name to the People Focused Group (PFG).
The Personalisation Forum Group have developed a Manifesto to describe how - as people with mental health problems - they are going to go about improving life for themselves, and for other people in Doncaster.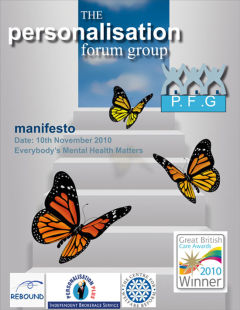 The Personalisation Forum Group is made up of people who live in Doncaster and who suffer from poor mental health. They came together as a group to help each other to create more personalised support solutions to benefit themselves and their community. 
They believe that having mental health difficulties does not stop them from being full and productive members of our society. They are very ambitious and hope to make the positive changes to local services that will help create a national movement for change. 
The group receives no funding or public services support, but hopes that people can see the power of what can be achieved from a small number of people giving their time, effort and encouragement. Their manifesto tells people who they are and what they aim to achieve. Some of the main points include:
Working together to fight discrimination and prejudice
Getting support solutions that help people live active and positive community lives - challenging isolation and segregation
Challenging the stigma of mental health by making an active contribution to the community
Speaking up for those least able to speak for themselves
Sharing information on good supports and services
The group's success and value was recently recognised when they won the 2010 Great Yorkshire and Humber Care: Putting People First Award for: "Andrew, Judith and Vinny so impressed the judges with their "Get a life not a Service" approach of this personalisation forum for people with mental illness. A truly inspiring group with the WOW factor!"
Ed Miliband, local MP and leader of the Labour Party also wrote to the group: "for far too long, mental health has been seen as a Cinderella service, when in fact it is critical to helping people achieve good quality, well balanced lives... I do hope that the Personalisation Forum Group go from strength to strength"
Paul Burstow, Minister of State for the Department of Health, wrote: "It is always heartening to hear of groups such as this who have taken it upon themselves to support each other, represent their shared needs and bring their depth of experience to the local debate. I particularly endorse your approach, which highlights the crucial importance of personalisation, choice and control. I wish you well."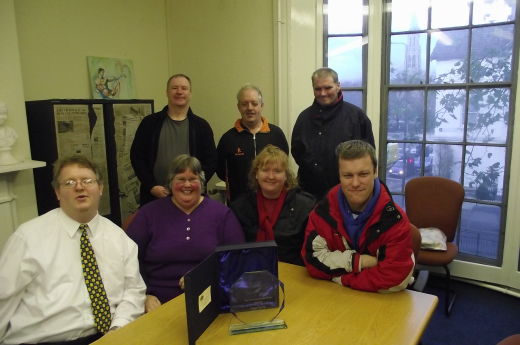 Visit their website: www.peoplefocused.org.uk
---
The publisher is PFG.
Manifesto of the Personalisation Forum Group © Kelly Hicks and PFG 2010.
All Rights Reserved. No part of this paper may be reproduced in any form without permission from the publisher except for the quotation of brief passages in reviews.