Background
Bristol Cty Council, Locality, OSCA and Power To Change were working in partnership with Bristols VCSE organisations to exlpore how they could deliver community led support to augment and replace more traditional forms of 'homecare' in the city.
Goal
Self Directed Futures was commisisoned to provide insight and expertise to the VCSE organisations by delivering a series of workshops to inroduce them to new models of funding and new models of providing community led support. The goal was to help VCSE community businesses develop an offer to local citizens that was rooted in community and drew upon community assets and strengths based aproaches.
Outcome
A number of Bristols community anchor businesses are now setting up as introductory agencies covering different areas of the city - they are helping to connect people who need help and support with local self employed 'micro providers' providing a boost for the local economy and extra capacity.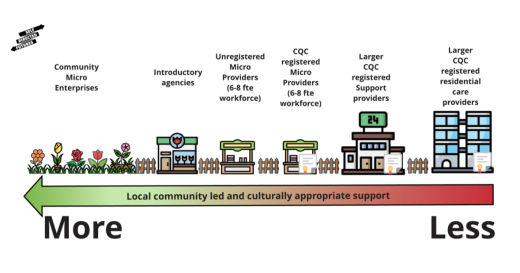 Graphic: Individual Service Fund Route Map
Download the graphic (pdf), link below.
Find out more about Self Directed Futures at: 
https://www.selfdirectedfutures.co.uk

The publisher is Citizen Network Research. Graphic: Individual Service Fund Route Map © Self Directed Futures.