Author: Sally Wyke
On the 26th June 2015 the Chancellor of the University of Glasgow conferred the honorary degree of Doctor of the University on James Elder Woodward OBE. Before presenting Jim Elder-Woodward to the Chancellor, Sally Wyke, Professor of Health and Wellbeing described Jim's impact on disability rights.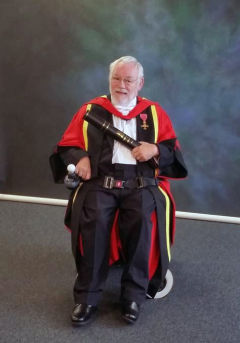 Throughout his life, Jim has been a tireless advocate on behalf of disabled people everywhere, working to promote disabled people's rights, and in particular, to promote the aims of the Independent Living Movement.
Independent living is a philosophy which calls for self-determination, equal opportunities and the full participation in society of disabled people as equal citizens.
Independent living means that all disabled people have the same freedom, choice, dignity and control as other citizens at home, at work and in the community. It does not necessarily mean living by yourself, or fending for yourself. It means having rights to practical assistance and to support to participate in society and to live an ordinary life.
Jim's support for independent living has been felt most keenly in Glasgow, where he worked for over 20 years in the social work departments of Strathclyde, and later Glasgow City, Councils and helped to establish the first Centre for Independent Living in Scotland. 
One of the highlights of his long career was when he set up Glasgow City Council's first Independent Living Service. Instead of support services for disabled people being decided by social workers or health care providers, disabled people themselves were able to take control and manage their own support. This pioneering work laid the foundations for the establishment of what is now called Self Directed Support – a flagship policy for Scotland developed as a partnership between government, statutory agencies and disability organisations. The important role that Jim played in this development cannot be overstated.
He retired from social work in 1999 on the grounds of ill health but has, if anything, been more productive in his retirement than he ever was as a social-worker. He has taken up any number voluntary positions, mostly with organisations run by disabled people themselves. 
He has been on the Board of Directors of the Glasgow Centre for Inclusive Living for the past twenty years; he has also been its Chair. He is Chair of "Independent Living in Scotland", Board member of the Institute for Research and Innovation in Social Services and has led an Advisory Group providing user-led consultancy to Capability Scotland. 
He has also, somehow, found time to write prolifically, including co-authoring a book for social care workers and writing several blogs. When he was awarded an OBE, in the New Year Honours in 2012, he pledged to use his award to fight any challenge to the right of disabled people to live independently. He is always in demand as a provocative and stimulating public speaker.
Jim's commitment, creativity, ambition, and above all perseverance, in battling for disabled people's equality are second to none, and he has made a significant contribution to the wellbeing of disabled people in Glasgow, in Scotland, in the UK and internationally.
---
The publisher is The Centre for Welfare Reform.
Battling for disabled people's equality © Sally Wyke 2015.
All Rights Reserved. No part of this paper may be reproduced in any form without permission from the publisher except for the quotation of brief passages in reviews.