There are five basic tasks for anyone supporting people who are at risk of social exclusion: (1) discover gifts (2) develop opportunities (3) make connections (4) provide support and (5) safeguard.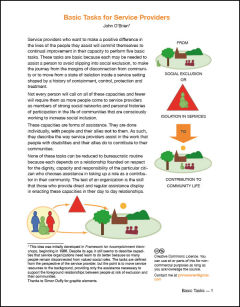 The five basic tasks were developed by John O'Brien in 1986 as part of the Framework for Accomplishment Workshops. Despite their age they continue to describe capacities that service organizations need learn to do better because so many people remain disconnected from valued social roles. 
The tasks are defined from the perspective of the service provider; but the point is to move service resources to the background, providing only the assistance necessary to support the foreground relationships between people at risk of exclusion and their communities.

You can download John's short summary of this work that has been very influential in the UK and the USA. This model helps service providers to move beyond unhelpful notions of 'care' and to understand how their role can be either incredibly helpful or obstructive - depending upon how they achieve these tasks.
---
The publisher is John O'Brien.
Basic Tasks for Service Providers © John O'Brien 2011.
All Rights Reserved. No part of this paper may be reproduced in any form without permission from the publisher except for the quotation of brief passages in reviews.