Summary: Churches Together in South Yorkshire
This is a summary of a talk given by Dr Simon Duffy at the meeting of Churches Together in South Yorkshire, Spring Forum in April 2013. It includes images and the notes of the final discussion.
The full slide presentation can be found here:
http://www.slideshare.net/simonduffy/working-with-vulnerable-people-syct
The Centre for Welfare Reform is a Sheffield-based research and development network. It has Fellows around the world who have created positive social changes (social innovations). It recognises the importance of social justice and works to build a fairer world. 
The way our welfare system is organized is not as good as it should be. The Centre attempts to approach this issue with imagination and from a moral perspective, to think how things might be made better and how a just welfare state for the 21st century could be created. Simon Duffy is a Christian who sees this problem as part of the Gospel's concern for the needs of all people.
The word 'vulnerable' must be used with care. All of us are vulnerable, but some of us may be somewhat more vulnerable than others. This is not because of our differences (ethnicity, disability, etc), but because of how our differences are perceived and treated by others.
1. What makes us vulnerable?
The sources of real wealth are:
People
Community
Gifts
Assets
Spirit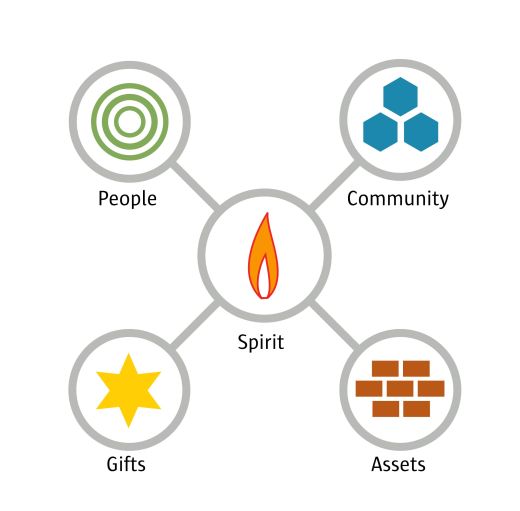 But we can become vulnerable because of:
Isolation: domestic violence, abuse, loneliness, fractured families…
Disadvantage: disabilities, poor health, limited education, drugs and alcohol…
Exclusion: crime, fear, limited opportunities, disconnected communities, prejudice…
Powerlessness: low income and savings, homelessness, institutionalisation, vulnerability…
All of these contribute to a loss of hope, which in turn contributes to isolation, disadvantage, exclusion and powerlessness – a vicious circle.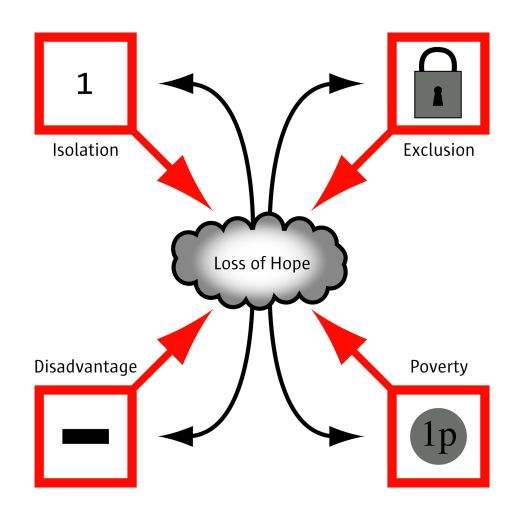 2. What is good support?
There are many 'services' available (education, health care, community organisations, tax and tax Credits, social care for children and adults, benefits, the law, housing, etc.) But do they really help?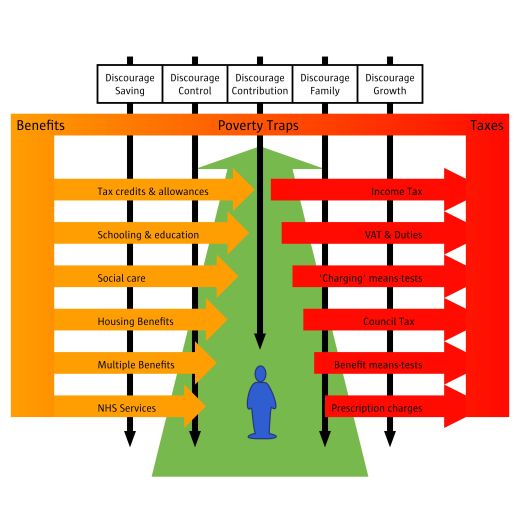 There are two ways of meeting needs: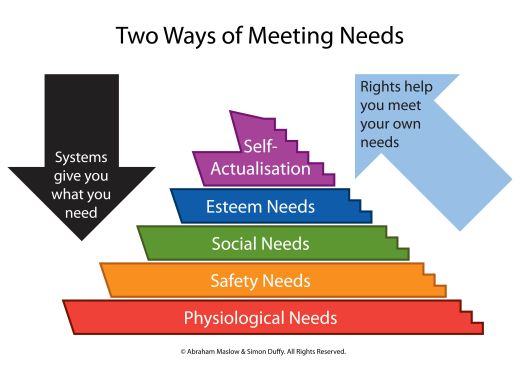 There are eight degrees of charity, one higher than the other. The highest degree, exceeded by none, is that of the person who assists a poor Jew by providing him with a gift or loan or by accepting him into a business partnership or by helping him find employment - in a word, by putting him where he can dispense with other people's aid. With reference to such aid, it is said, "You shall strengthen him, be he a stranger or a settler, he shall live with you" (Lev. 25:35), which means strengthen him in such manner that his falling into want is prevented. [Maimonides]
It is better when people make their own decisions. The system should not try and provide all the answers (although people and systems need to work together).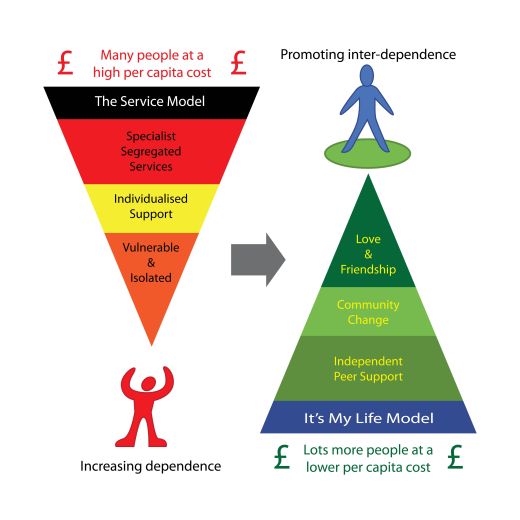 We need to be mindful of citizenship (i.e. respect and belonging): 
purpose
freedom
money
home
help
life
love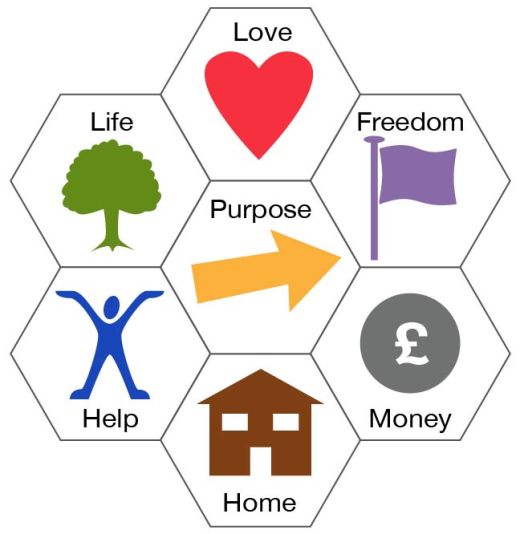 Support is in relationship. Community is where we go to live our life: community development, rights and freedoms, peer support and facilitation, community focus, inner development. We have the gifts we need build real communities.
Sometimes we also need places of safety where people can deal with pressing issues, face the past, form bonds of trust, and plan with hope for the future. For example, the WomenCentre in Halifax: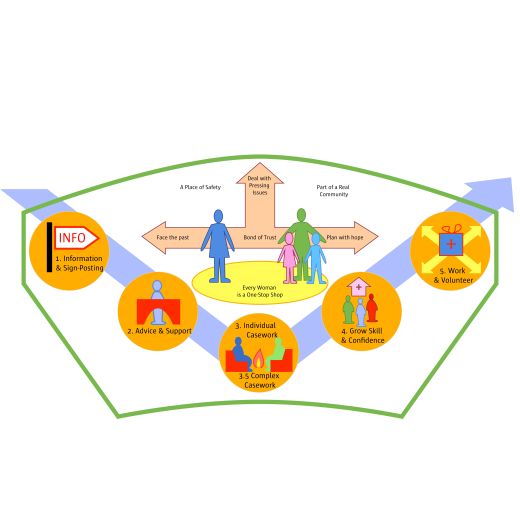 We must respect people's own capacity to lead, and their 'ownership' of the process ( its 'my' budget, 'my' plan). Trust restores the spirit.
The process for restoring community:
1. Locate energy
2. Create vision
3. Listen to community
4. Formalise partnership
5. Sustain momentum
6. Take action
7. Renew and adapt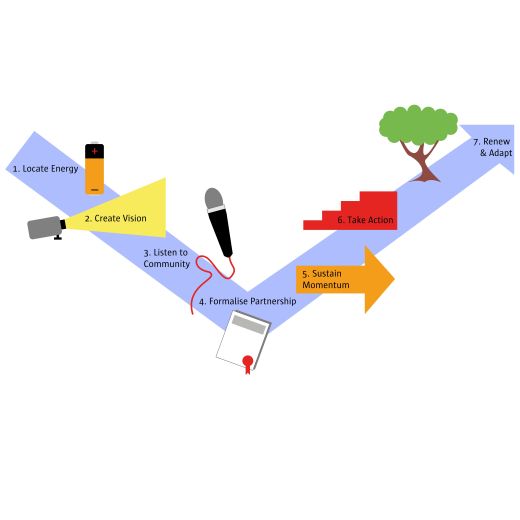 3. What is our current context?
'Austerity' is not the problem. The financial crisis was not caused by welfare spending, but by over-lending to individuals to support excessive house price growth. It is a bubble politicians cannot afford to burst.
Then did all the grants and the subsidies, the benefits and the bargain offers pass over these poverty-stricken peasants when Ingolfur Angerson's ideals came to fruition? What is one to say? It so happens that it signifies little though a penniless crofter be offered a grant from the Treasury towards the cost of tractors and modern ploughs...The fact is that it is utterly pointless to make anyone a generous offer unless he is a rich man; rich men are the only people who can accept a generous offer. To be poor is simply the peculiar human condition of not being able to take advantage of a generous offer. The essence of being a poor peasant is the inability to avail oneself of the gifts which politicians offer or promise and to be left at the mercy of ideals which only make the rich richer and the poor poorer. [Halldor Laxness]
Local government is facing the biggest cut (42%), and 60% of the local government budget goes on people in poverty, disabled people, people with severe disability. Even if cuts are necessary, there is no need to target cuts against the most vulnerable in society.
How the cuts are targeted:
Most citizens: £467
People in poverty: £2,195* = 39% of cuts affecting 21% of population – a burden of 5 x rest of pop.
Disabled people: £4,410* = 29% of cuts affecting 8% of population – a burden of 9 x rest of pop.
Most severely disabled: £8,832* = 15% of cuts affecting 2% of population – a burden of 16 x rest of pop.
[Annual real term cut in income or support by 2015, figures from Duffy S (2013) A Fair Society? how the cuts target disabled people. Sheffield, The Centre for Welfare Reform.]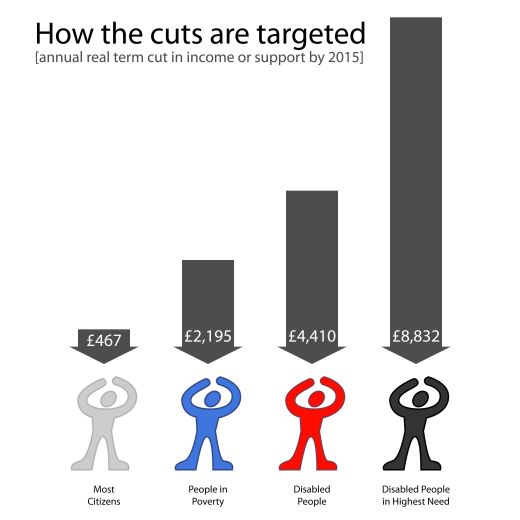 Is this welfare reform or a war on welfare?
The current situation is:
Complex: many accept the need for welfare reform, but reject the idea that these changes are real reforms.
Confusing and damaging: it discourages saving, control, contributions, the family and growth.
Not too generous: the real cost of benefits = benefits minus taxes•
Not riddled with fraud: Benefit fraud = £1bn, Tax fraud = £15bn Unclaimed benefits and tax credits = £18bn Benefit cuts = £22bn
Not unfair to the rich: 45% is highest rate of tax, paid by poorest 10% of families (i.e. earning around £10,000pa), compared with approx. 30% paid by those earning around £120,000. (2010–11 figures)
Highly centralised: For example, Barnsley get less per capita than others in the south: Public Spending in Barnsley in 2009 = £1.44bn Public Spending missing from Barnsley in 2009 = £0.9bn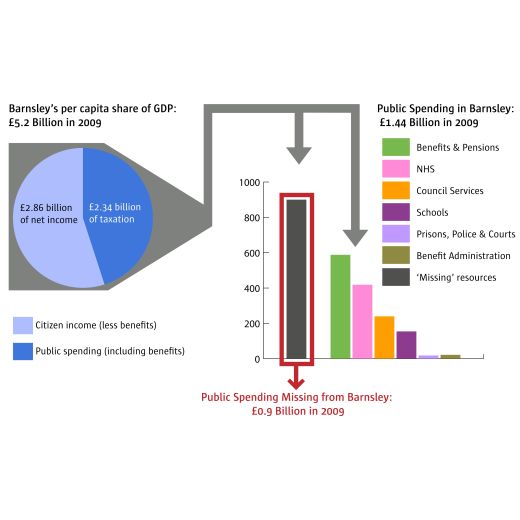 Comments raised following presentation:
People have a right to be angry and to campaign against cuts to local services, but local government has to make cuts, and cannot cut some ring-fenced funds. In our churches, we need to be sensitive to local issues and the anger and strength of feeling they engender; but we also need to understand the real situation. The church is well placed to be truthful and to highlight the real situation.
The voluntary sector is big in churches across country as part of our Christian ministry. Prospect is a group for Christian families with children with disabilities, looking for Christian care in the community, helping those with disabilities get out of the institutionalised system and into Christian community homes – an invaluable service at a time when it is difficult to buy in services because of cuts.
Many of the current cuts are subtle and unfair, and although congregations are affected by them, they are not sure about things. How can we develop an environment where people can share stories and be heard, and work out a response together? There are some in the church (e.g. Kate Plant (Anglican, Peace and Justice) and Jane Perry) working on this already, and they would value other people getting involved. Paul Blomfield MP is also interested in what's coming out of it.
If you are interested in campaigning for a better system join: www.campaignforafairsociety.org
---
The publisher is The Centre for Welfare Reform.
Graphics © Simon Duffy 2013.
Working with 'Vulnerability' notes © Churches Together in South Yorkshire 2013.
All Rights Reserved. No part of this paper may be reproduced in any form without permission from the publisher except for the quotation of brief passages in reviews.