Author: Peter Leidy
My wife Betsy's mom is 91 and living with a form of dementia we'll call the If I Ever Have Dementia, I Hope It's This Kind type. She is content most of the time, smiles a lot, sort of recognizes family, laughs with us, can still walk, and sleeps several hours a day. Her name is Betty.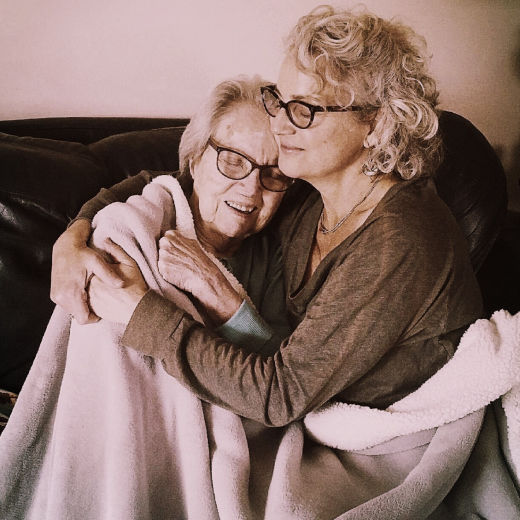 Betsy with her mom Betty
For a variety of reasons, last August we moved her from a rather chaotic 15-person locked unit in a memory-care facility to an Adult Family Home ten minutes from our house. This family has room for two people to be supported in their home, and they happened to have an opening.
Enter Jennifer, the primary caregiver whose family lives there. Jennifer's husband Halim moved to the US from Morocco. They met in Washington DC and eventually moved back to Jennifer's home state of Wisconsin. Their three daughters are in middle school, high school, and college here in Madison.
Jennifer asked Betsy:
"Before you move your mom here, can you please tell your family we are Muslim? We have had experiences in the past where family members were uncomfortable with us when they found that out. I just don't want any surprises."
This was last summer, long before the current administration's travel ban involving 7 predominantly Muslim countries. 
 A loving family with impeccable references who has to think about their religion being problematic. 
I still shake my head when I think about it. 
When moving day came, a bunch of us arrived with Betty. She was pretty wiped out from the trip, and Jennifer offered her an easy chair in the living room where we all visited for the next couple hours. Let me just say that when these two families came together, it was love at first sight.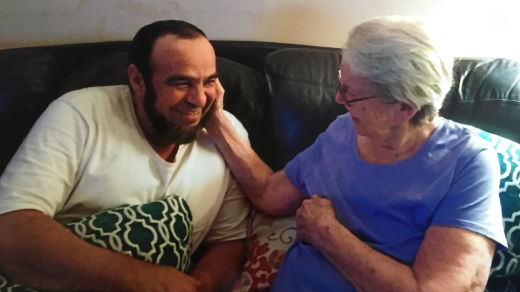 Halim and Betty
At one point, Halim – a kind soul who laughs easily and knows how to work the room in the best kind of way – sat down next to Betty. He gently reached for her hand and said: 
"She will make a beautiful addition to our family. You all are welcome here any time. Any time. We will take care of her. We will hold her in the palm of our hand until it is time for her to pass on." 
Wow.
Jennifer told us recently that Betty is her light, every day, especially when the world seems like a dark place.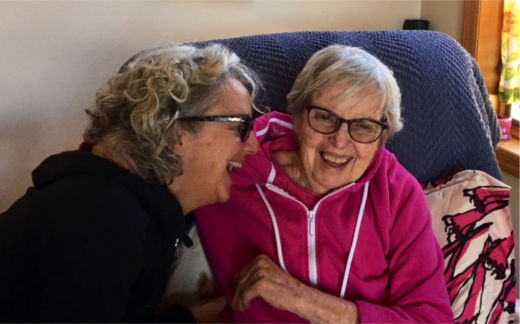 Betty lives in the moment. It's hard to know just what she remembers about people and things once important to her. We know that when family visits, she will often smile and laugh. And we know that when we are not there, she is surrounded by the loving faces of Jennifer, Halim, and their daughters, holding her in the palm of their hand. We could not feel more grateful for our new family.
---
The publisher is the Centre for Welfare Reform.
Our New Family © Peter Leidy 2017.
All Rights Reserved. No part of this paper may be reproduced in any form without permission from the publisher except for the quotation of brief passages in reviews.