Future of Personalisation
Author: Simon Duffy
The Future of Personalisation is a paper which was developed to explore the different policy implications of personalisation. The paper also forms the basis of an article which will be shortly published in the Journal of Care Service Management.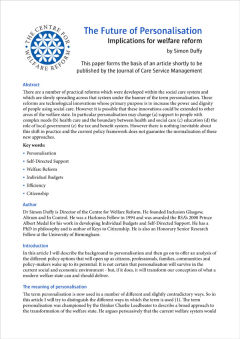 ---
The publisher is The Centre for Welfare Reform.
The Future of Personalisation © Simon Duffy 2010.  
All Rights Reserved. No part of this paper may be reproduced in any form without permission from the publisher except for the quotation of brief passages in reviews.
Paper | 30.11.08
local government, social care, Paper