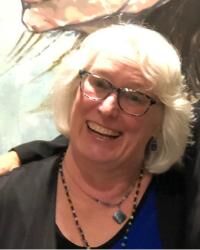 Carol Blessing is a licensed social worker with over 30 years in the field of disability services in both direct practice and management capacities. In 2000, she joined the faculty at the Yang-Tan Institute on Employment and Disability (YTI) in the ILR School at Cornell University where she leads system's impact projects aimed at supporting the full inclusion of people with disabilities in typical community life. Recognizing that disability is part of the human condition is at the heart of YTI's work. 
Carol is passionate about integrating the ideals of citizenship into all aspects of her life's work. Carol is the author of several publications, including co-editing Conversations on Citizenship and Person-Centered Work (2011) with John O'Brien. She is a seasoned facilitator in all of the prevalent methods for person-centered planning, and co-designed A Framework for Planning©, a person-centered planning approach to supporting people in finding positive pathways into their future.
In 2010, Carol created the landmark Citizen-Centered Leadership Development (CCLD), Community of Practice, a 15-week blended learning intensive course of study offered twice a year. CCLD is a compendium of information and resources spanning six inter-connected core topics critical to ending the systemic inequality that marginalizes people because of difference. CCLD is host to a world class video library dedicated to preserving the legacy and the integrity of authentic person-centered practices, as told by their originators. 
Carol sees her work in citizen-centered leadership development serving as a "hub" for a global village of active members in the CCLD community of practice intent on co-designing and implementing opportunities that lead to the full expression and experience of citizenship. Carol whole-heartedly believes that connecting Cornell's Citizen-Centered Leadership Development efforts squarely with Citizen Network International community creates an ideal platform for elevating stories of positive social change in people's lives and in their communities. 
To achieve this vision, Carol invites you to imagine how you can use CCLD and Citizen Network as a home base for advancing social equity and justice for all. 
Some suggestions include:
Engage in the 15 week online CCLD community of practice;
Take the course to the next level through intentionally designing and implementing prototypes leading to significant change in people's lives and in local community;
Share the stories of deep change on a local and global platform;
Become a licensed learning partner to facilitate the CCLD course in your country.