Author: UBI Lab Team
Universal Basic Income or UBI is an idea whose time has come. Starting in Sheffield in 2016 the UBI Lab Network is now a global movement to support the case for implementing and testing basic income - giving each individual enough money to live on. The UBI Lab Network is one of the fastest developing anti-poverty movements today.
The attached report summarises some of the main achievements at the end of 2021.
With limited financial resources, but with a huge amount of expertise, experience and drive the UBI Lab Network (incubated by Opus Independents, and part of Citizen Network) has grown from strength to strength, surpassing all expectations in terms of impact, policy papers, media coverage, it's distributed membership and the political and social momentum it continues to generate across the world. The pandemic has renewed debates on the future of governance and the social contract and UBI is at heart of them.
Read and download the free pdf in your browser here.
Discover more about the UBI Lab Network at: https://www.ubilabnetwork.org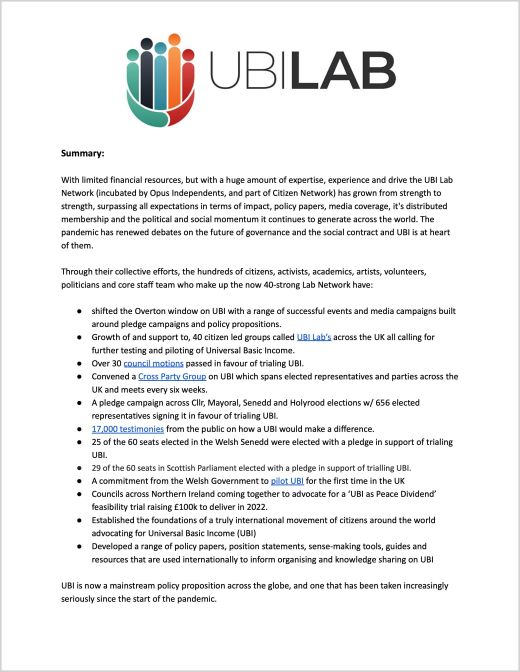 The publisher is the UBI Lab Network. UBI Lab Network Achievements 2021 © UBI Lab Network 2021.