Author: Marie O'Connor 
This gripping book gives us an insight into the life of a woman who has experienced the devastation that is institutional care and yet in this personal story Marie demonstrates how the human spirit can survive and eventually flourish with the right opportunities support and love.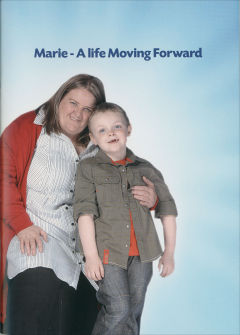 The book was ghost written in partnership with Marie by Julie Muir. Julie uses her own experiences of childhood and her diagnosis of dyslexia to make a unique comparison of how two women's lives can take such different paths when the solutions that are applied are ones of segregation and institutionalisation, instead of education and personalised supports enabling a family to support a child through difficult times.
This book is a compulsive read and Marie's story leaves nothing to the imagination in her description of her life in Lennox Castle Hospital near Glasgow and the experiences which she witnessed and lived through. It is a well written book which is moving and thought provoking, rarely is someone able to get the opportunity to vividly share experiences of a system which we as a society are responsible for, and are struggling to make sure stays in the past.
The real triumph of this story is Marie's determination not only to survive these experiences but continuously to fight the system, break down barriers and achieve what seemed to be the impossible dream: to become a mother and bring up her son against all the odds. This became the fight of her life, many years after leaving the system, the system still tried to control this event but with the love and support of her family and calling on all of her experiences and resources eventually Marie succeeded in winning this battle.
Marie's story is one that will stay with you and although this is not always an easy topic to read about Julie's unique writing style and Marie's insight make this short book one you won't want to put down.
You can obtain a copy of the book by contacting Inclusion Glasgow, at ruth.campbell@inclusion-glasgow.org.uk or call 0141 950 4910.
The book costs £3.50 plus postage and packing.
---
The publisher is The Centre for Welfare Reform.
Review of Marie - A Life Moving Forward © Frances Brown 2011.
All Rights Reserved. No part of this paper may be reproduced in any form without permission from the publisher except for the quotation of brief passages in reviews.