Suicide rates amongst Australian men are high and it is hard, in a macho culture, for people to talk about the fears and problems. After losing friends to suicide Jeremy Forbes and Catherine Pilgrim came together to form HALT - Hope Assistance Local Tradies. 
HALT is a ground-breaking mental health initiative where people working in the stressful world of the building industries get the chance to organise, meet, get expert advice and practical assistance.
One of the key elements of this innovative approach are the "Save Your Bacon" events, organised at local hardware stores where tradespeople (Tradies) from the local area meet, get a free bacon sandwich, the chance to hear something of the issues and how to get support, and information that they can take away and read when the time is right.
The approach is practical and powerful and their well designed website explains more:
And, also check out their Facebook page:
https://www.facebook.com/hopeassistancelocaltradies/
This one page newsletter below outlines the what, when, how and why of HALT: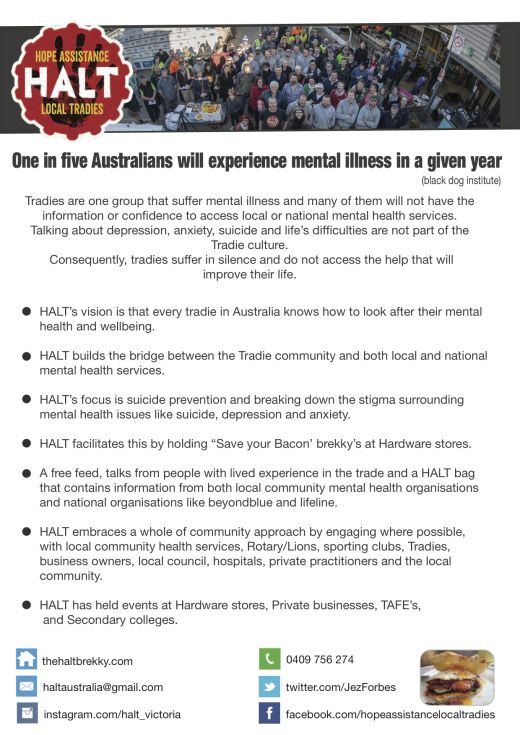 ---
The publisher is the Centre for Welfare Reform.
Hope Assistance Local Tradies © HALT 2016.
All Rights Reserved. No part of this paper may be reproduced in any form without permission from the publisher except for the quotation of brief passages in reviews.