Collapse of Social Care (2009-2016)
In 2010 the UK Government began an Austerity programme. It began to cut benefits for people on low incomes and for disabled people and it particularly targeted local government. Most local government funding is used to fund social care for children and adults. For this reason Austerity has caused a collapse in the numbers of people supported. These cuts have been directly harmful to disabled people (including frail older people) and they have also had very negative consequences for other services, especially the NHS.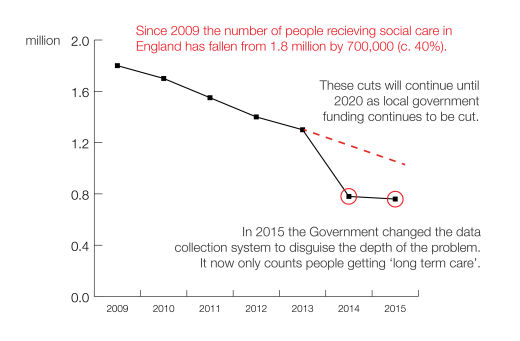 ---
The publisher is the Centre for Welfare Reform.
Graphic on Collapse of Social Care © Simon Duffy 2017.
All Rights Reserved. No part of this paper may be reproduced in any form without permission from the publisher except for the quotation of brief passages in reviews.
local government, social care, social justice, Graphic