This event was developed and hosted by Sebastian Lins and Julia Finkenzeller, students at the Centre for Economics and Ecosystem Management Eberswalde University for Sustainable Development, over 3 lively and very informative days.
We had a lot of fun running this event and it was so great to see, engage and connect with all of you over the 3 days. We hope you find this debrief useful - or rather de-breath – breathing out, remembering the transformative moments and appreciating the time we have spent together. Thank you for joining us.
During the sessions participants were introduced to Miro, Kumu, Wonder and Vensim. Follow the links to discover more about these innovative platforms:
We also asked you for your choice of the music that made you happy - you can listen to the playlist here.
We hope you enjoyed the event as much as we did - we've learnt a lot but we would love your feedback - it will only take 5 minutes to fill in the following survey and will allow us to improve our work:
https://limesurvey.hnee.de/index.php/184564?lang=en
System Development
We were excited to be joined by Christoph Hinske over each of the 3 days. Christoph led us in an exploration of the development of Citizen Network and created the following Merged Model from our discussions.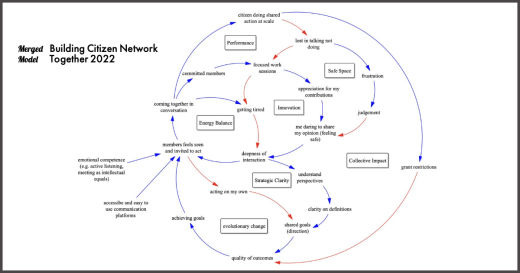 Download a pdf of this model here.
Christoph explains more about this model and value mapping in his film below:
These discussions and the model were given life in graphic form by Jenni Ottilie Keppler a Social and Environmental Interaction Catalyst.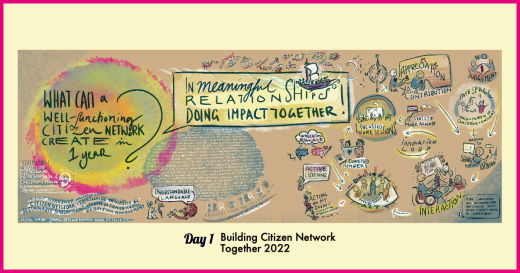 Download a pdf of the Day 1 graphic here.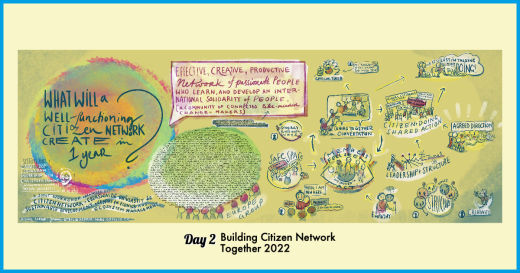 Download a pdf of the Day 2 graphic here.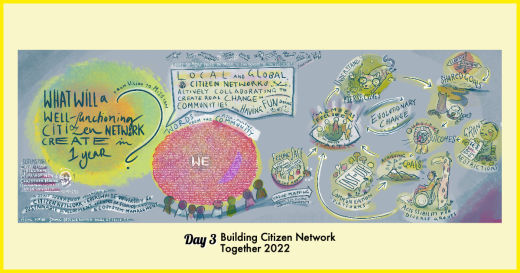 Download a pdf of the Day 3 graphic here.
Open Sessions
On all 3 days Simon Duffy and James Lock hosted an Open Session on What it means to be a Citizen Network member, their slides are below:
And, these are Markus Vähälä's slides, Markus hosted an Open Session on the Citizen Network Cooperative on all 3 days:
We recorded their Open Sessions which you can watch again on the Building Citizen Network Together playlist here. 

On Day 2 Selva Mustafa and Sam Moon hosted an Open Session on the Neighbourhood Democracy Movement:

On Day 3 Rosie Lawn and Kate Fulton hosted an Open Session on Citizenship in Community Organisations:

And also on Day 3, Yanu Prasetyo and his team presented their work on creating a trial Basic Income Scheme in the Jakarta region.

Many thanks once again to everyone - presenters and participants - you can watch all of the recorded sessions in your own time on our youtube channel.
Our thanks to Eberswalde University and Professor Martin Welp, it's been a fantastic learning experience.