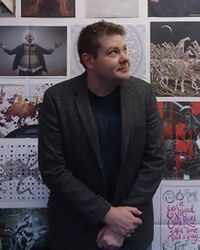 James is the Founder and Managing Director of Opus Independents Ltd, a not-for-profit social enterprise, working in culture, politics and the arts in Sheffield. James is passionate, (though tries never to be proscriptive) about systemic approaches to improving wellbeing and quality of life for all human beings. He believes that active citizenship, valuing empathy and engagement with the arts and creative practice is crucial to improving our collective and individual experiences of existence. 
Since 2008 Opus has been working to encourage and support participation, systemic activism and creativity by creating platforms across print, digital and live events which provide opportunities for participation and new voices and ideas to be heard. These platforms are designed to challenge our current societal narratives, with a view to creating spaces for the development of new ideas, expressions and ways of organising. Opus core project strands include Now Then Magazine & App, Festival of Debate, Opus Distribution and Wordlife.
James has over ten years of experience working in the third sector in a variety of project management and delivery roles and sits as a non-exec on the boards of Voluntary Action Sheffield, Healthwatch Sheffield, Cohesion Sheffield, and Sheffield Creative Guild. He has extensive experience in value led approaches to enterprise, and a particular knowledge of independent trade, arts, publishing, events management, marketing, active citizenship and culture sectors within Sheffield.
In his spare time he enjoys reading books of all kinds, (with a particular penchant for Science Fiction), listening to new (to him) music and writing and performing poetry.