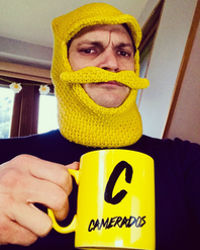 Camerados is a new social movement of people going through tough times who through mutual aid want people to get the two essentials: Connection and Purpose.
Maff and his colleagues set up Camerados in 2015 to work with and support people who the existing system have failed. With a global reach from the UK to the USA, Camerados is working in locations as diverse as colleges, prisons, hospitals, libraries, football stadia.
Camarados puts people in charge of their own solutions through Mutual Aid – helping people who are not necessarily friends to self-organise to support each other through tough times. The main focus right now for the movement is to see communities set up Public Living rooms – a place to go on a tough day or when you're lonely to help others and get connection and purpose.
Maff has been instrumental in creating culture change in homelessness nationally in variety of roles. He ran the Government's programme to modernise homeless centres, writing the policy and committing £170m. Whilst there he also co-created a social enterprise competition with the Big Issue and PwC which launched 34 new social businesses.
Maff has also worked front line and ran the largest homeless services in the country for The Salvation Army as well as being CEO of award winning organization "People Can" which used asset based methods across homelessness, criminal justice, domestic violence and addiction services.
Maff's best story though is setting up a homeless shelter in the World's biggest building for Christmas, the millennium dome, for charity Crisis.
Added to this Maff has worked as a consultant in a variety of interim roles running Housing assocations and advising councils. You can also book him to play jazz piano for your children's wedding or bahmitzvah.