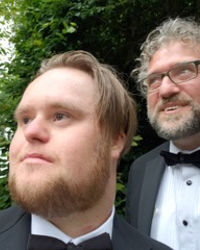 Fionn and Jonathan Angus are Citizen Network Global Ambassadors.
When it comes to envisioning a great life, Fionn and Jonathan are world-class imagineers. When life gives them lemons, they teach themselves how to juggle, and then make lemon meringue pie, and share some with the neighbours. Living in Galway, on the west coast of Ireland, this son and father team operate the country's first government funded, self-managed support project for someone with learning delay. (Fionn, who has Down Syndrome, is the manager, and Jonathan, his employee.)
Personalising policies in ways never-before attempted is a speciality of Fionnathan Productions. Availing of a government scheme designed to help employers provide standard-paying jobs to people with disabilities through a big kick-back, they designed a person-centred job for Fionn. (So, in this sense, Jonathan is the manager, and Fionn has a well-paid, fulfilling job.)
You might think that playing so much outside the box would land them in hot water. But often the bureaucrats are won over to their side. As Citizen Researchers working both alongside and independent of more traditional academics, they have the respect of seasoned researchers and policy makers, and have been invited to present their discoveries in dozens of college programmes and conferences, in eight countries.
Embracing community is built right into the structure and goals of their company. They have collaborated in visual arts and music projects locally and internationally.
Since starting their Social Enterprise five years ago, they've learned lessons in the fine art of negotiating for things they are passionate about, from the soft sell to the High Court, and they share these with others seeking a great life, through workshops and individual or family consultations.
Connect with Fionnathan on Twitter: @fionnathan and on Facebook here.