Author: Norma Curran
A recent innovation for VIAS has been the development of our very first app. The app has been designed to give people information about our training courses, connect them to all of our social media sites and most importantly to help people to make their own video CV.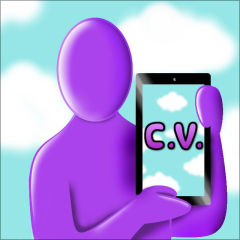 We think that creating a video CV is a fantastic way of showing employers what you can do! We have kept it short and focussed as we know that most employers make up their minds about a potential recruit within 20 seconds of looking at a CV. 
The video CV gives applicants the opportunity to tell and show what they can do. It's easy to use and there is even space for a referee to say what they think about you!
Video CVs are widely used by people in sales, PR and digital media so why not make the facility to create one more widely available? We know that often employers make inaccurate judgements about disabled people. This is a fantastic way of showing employers that you are a real person with amazing skills and talents!
We decided to create the app for a number of reasons:
People spend more time using apps than on websites because it is convenient and you can use it on the move!
If you want people to find out about you, then they are much more likely to do this using a mobile! More people use mobiles to look for things than computers and TV. We could never afford a TV campaign but we could afford an app.
Apple and Android can help you to reach millions of people that have never heard of you.
Having information about you available on an app gives you credibility.
Apps are the latest must have thing, a bit like a Walkman was, for those of you who remember! Having one says that you are at the cutting edge!
An app can help you to pull together all of your social media sites and have them available in the one, easy to use, place.
Innovation helps advance what we do. We can create apps that improve people's lives and make a difference!
There have already been some fantastic apps designed that help people to communicate, find their way about, learn and much, much more.
If you are considering developing an app, we can highly recommend Apjam Ltd that is based in Hillington, Glasgow. Jim Tierney, the Director has been absolutely fantastic throughout the development of the app. He has gone way beyond the call of duty in the work he has carried out!
So, I'll leave you with a question. 
What app could you develop to improve the lives or people with learning difficulties and individuals on the autistic spectrum? 
The world is your oyster!
---
The publisher is The Centre for Welfare Reform.
My Video CV © Norma Curran 2014.
All Rights Reserved. No part of this paper may be reproduced in any form without permission from the publisher except for the quotation of brief passages in reviews.